Abimis presents the new collection A_ccessori
---
Abimis has added the new A_ccessori range to its catalogue, further increasing the functionality and customisation possibilities offered by its kitchens.
23.05.2019 Created by designer Roberta Tosolini, this new range of accessories, A_ccessori, has been designed by following the company's three main guidelines: interaction between design and craftsmanship together with the desire to bring the efficiency of professional solutions into the home. To optimise and simplify time spent in the kitchen, Abimis has introduced a new range of accessories that combine elegance and functionality without neglecting the technological aspect which, when combined with tradition, allows us to achieve and improve ergonomics in the kitchen.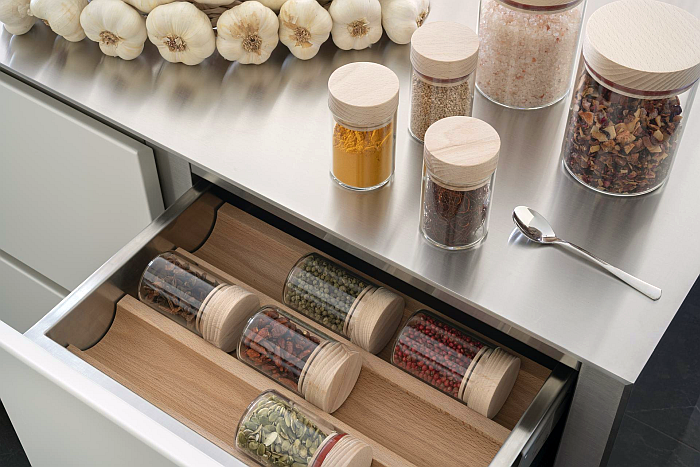 The past and the future come together to optimise efficiency, supported by objects that add new meaning to existing products traditionally dedicated to the culture of food. The idea of introducing accessories is the perfect next step along the path that the company has paved for itself – a path that has made Abimis kitchens so unique: in fact, the new objects allow you to customise how spaces are organised, meeting each individual's different needs, also in terms of streamlining.
Stainless steel
The new range has been designed to improve layouts by using modular objects that are stackable and have various uses, adding freedom to manage spaces by meeting everyone's needs. The pursuit of great aesthetics also remains key in order to complete Abimis designs: simple and linear attention to detail creates uniformity and strengthens the company's story, remaining loyal to its identity.
Thanks to the addition of these unprecedented accessories, every action in the kitchen is simplified: in fact, it will become easier to tidy, store, display, cut and serve, all thanks to solutions that adapt to each person's creativity in a simple and dynamic way. To remain loyal to its style, Abimis shall continue to use stainless steel, combining it with impressive new entry materials such as wood and borosilicate glass.
* For further information: abimis.com