Alvic, at the London Surface Design Show 2020
---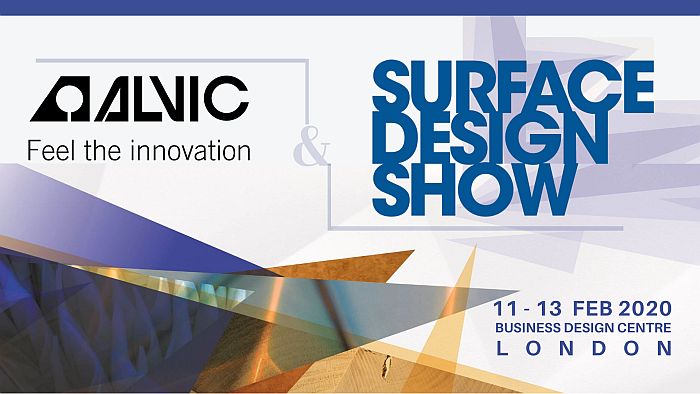 23.01.2029 Alvic got a resounding success at 2019's Interzum Trade Fair in Cologne, Germany. There, the architect Héctor Ruiz created a museum-themed stand. Now, the Spanish firm is set to appear once again under the creative direction of the architect at 2020's London Surface Design Show.
Thus, Alvic will exhibit at the London Surface Design Show for its first time from the 11th to 13th of February, with a stunningly innovative concept. The exhibition space will be dressed in luxurious tones of black, wood and metal. It is structured to give the illusion of a long corridor backed by a creative mural displaying a pixelated inspiration representing the entire collection of wooden doors.
A cube for each surface model sample of the Alvic range will be interposed between luminous cells outlined in black. The interesting visual interpretation of computerized images has been designed to evoke modernity and technology. As well as luxury and decorative refinement, in the perfect combination of noble woods, from the darkest brown to the warmest beige.
Three-dimensional checkerboard
The bright surfaces will sparkle and reflect a grid pattern on the surfaces of the perpendicular side walls of the corridor and on the flooring. And are dressed in intense black gloss. The modern and luxurious three-dimensional checkerboard pattern has been created to evoke intimacy, and, above all, elegance. Indeed, since ancient times, numerous temples and symbolic and contemplative spaces have represented the duality of the world using the interposition of black and white mosaic tiles. The aim is to elicit a profound concept of unity made visible by opposites.
The brand's new exhibition space will demonstrate the same museum concept once again. But with a different formal style that appeals to the architecture and interior design of the luxury world. In its centre, a reception area will feature an elegant kitchen island in a marble and metal finish showing off all the originality and uniqueness of the brand's materials on a flat surface. Behind will appear the iconic female face represented to great acclaim at the Cologne fair. It artistically reproduces an original mural painting with a combination of Alvic's wood, metal and high gloss materials, this time in a totally new colour range.
*For further information: www.grupoalvic.com/es