22 julio, 2020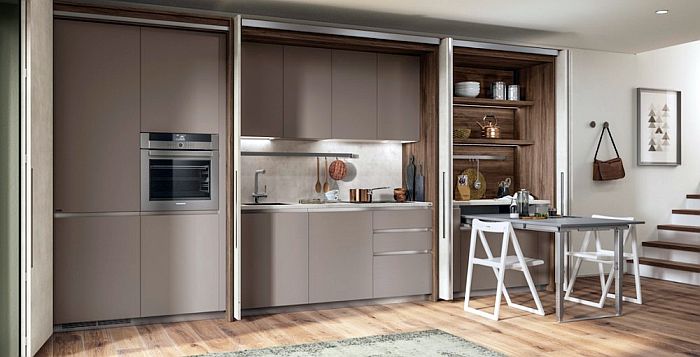 22.07.2020 Scavolini presents the innovative BoxLife collection created in partnership with International Design Studio, Rainlight, and its creative director Yorgo Lykouria.  Stemming from the desire to offer its clientele the chance to furnish all settings in an organised and functional manner, BoxLife is a smart interior design concept that conceals endless functions to ensure the utmost flexibility in the organisation of space.
Scavolini and Rainlight designed BoxLife to accommodate the increasingly topical need for dynamic settings capable of adapting and hiding away depending on momentary requirements. An unprecedented comprehensive and modular system, which is ideal for those who are always on the go, or those who have limited square footage available, without forgoing comfort.
The heart of the project lies in the idea of concealing to keep things neat and tidy. From large lofts to small studio flats, a single setting can be transformed into another through the coexistence of different spaces with linear, corner or U-shaped solutions where the undisputed starring role is played by the panelling. 
Boxi kitchen
Access to the different areas is granted by various opening systems, from retractable doors to folding, sliding or bottom-hinged flap doors. From the cupboards with retractable doors (single or double) in the kitchen – which can house up to four appliances, an additional sliding worktop, as well as multiple shelves and storage drawers – to sliding systems for the living area, the cabinets in the sleeping area, without forgetting the laundry area.
A significant new feature of the collection is the introduction of the Boxi kitchen with its living room variant that joins the existing range of Scavolini kitchen models. A concentration of style and functionality that completes the exceptional furnishing solutions of BoxLife.
The BoxLife handles and grips were devised to guarantee comfort and the utmost stylistic continuity. Recessed handles are fitted on the external panels, whereas the panels on the furnishings inside the cabinets can be opened with a handle profile at the top of the door.
Designed especially for the contract furnishing market, BoxLife accommodates both the desire for custom-made environments. As well as the widespread requirement on the part of designers to find standardised solutions to accommodate current lifestyles.
BoxLife is designed to accommodate a variety of needs; a timely requirement of today's modern living spaces which call for limitless adaptability from their discerning inhabitants. BoxLife is a system that adapts to many applications. From large lofts to small studio flats, transforming and storing away, as need be. BoxLife allows the same space to simultaneously serve a variety of purposes. A place to cook, work, sleep, do your laundry and store your wardrobe, a haven to relax; BoxLife facilitates the harmonious coexistence of each component with the others, Yorgo Lykouria, Rainlight Studio, explains.
*For further information: www.scavolini.it
---