12/06/2020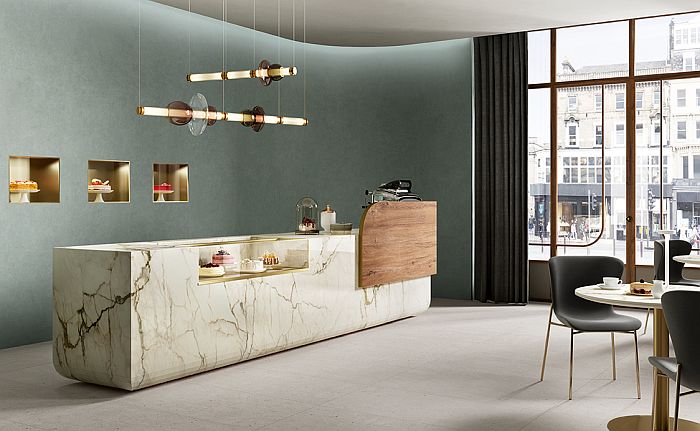 12.06.2020 One of the most famous Italian marbles in the world, Carrara marble joins the SapienStone collection. Calacatta Macchia Vecchia is the name chosen for the dazzlingly beautiful surface by SapienStone. The marble on which the design is based creates a luxurious ambiance and features a white background with gold veining, and gray and beige accents.

SapienStone has authentically replicated the original material's perfect markings, while the ultra large format tiles facilitate mirror-image veining to create elegant symmetry in the kitchen.
Properties of porcelain
Calacatta Macchia Vecchia by SapienStone is a spectacular worktop, where aesthetic sophistication is complemented by the properties of porcelain, making it invaluable for kitchens. Unlike marble worktops, it is unaffected by high temperatures, sudden thermal changes, and acid or corrosive substances. UV resistant, it also retains its appearance over time. Lastly, it is easy-clean, absolutely essential for kitchen hygiene.

Calacatta Macchia Vecchia 12 mm thick worktops are available in two finishes: Polished, glossy and reflective or Silky, matte and versatile.
Technical Specification
Product: Calacatta Macchia Vecchia porcelain tile kitchen worktops.
Finish: Polished, Silky.
Format: 320 x 150 cm.
Thickness: 12 mm.
SapienStone highlights
SapienStone can be recycled after use, which only confirms its low environmental impact The product is made using natural clays and mineral colours. These colours are pressed and fired to make a high- performing surface.
The company is a world leader in the production of floor and wall materials – and its goal is to become a leader in kitchens as well with the SapienStone brand. Moreover, the team that developed SapienStone has two significant advantages: 50 years of experience making high-quality ceramic materials and porcelain tile, and the most advanced technology in the industry.
The wide range of porcelain stoneware kitchen worktops is high quality surfaces. Aesthetics, innovation, and attention to detail are its trademarks. Ideal for kitchen lovers and for all people fond of design, they meet the strictest standards in terms of resistance, hygiene, and durability. Its finishes and textures cover the range of the most demanded materials. accurately reproducing marble, cement, lava stone, rusty metal…
*For further information: www.sapienstone.es