CH 01, by Sanwa Company, at Milano Design Week
---
Sanwa Company, after three years of successful presence at the Milano Design Week, is back again to present to an international audience its new products. During Fuorisalone, in the hearth of Tortona Design district, the Japanese company exhibits in the showroom of Simone Piva, the company's first distributor in Europe, with a setting curated by Elisa Ossino. There, the people can know its new kitchen concept, CH 01.
10.04.2019 As new product for 2019, Sanwa Company introduces the new kitchen CH 01 designed by Christian Haas. This is the first product born from the cooperation with Karimoku New Standard (KNS), which is a brand that Karimoku Furniture inc., the biggest Japanese manufacturer of wooden furniture, founded in 2009.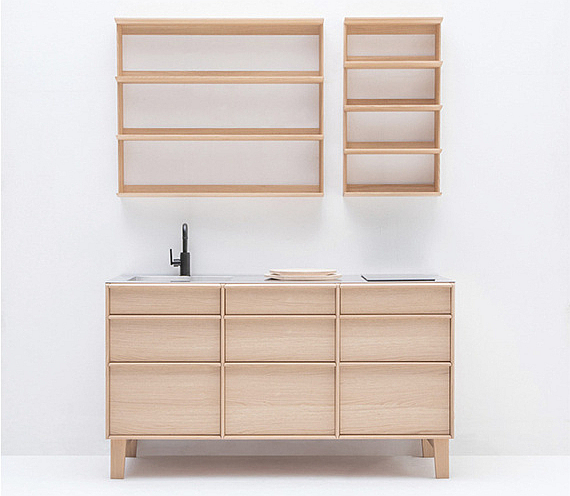 This unprecedented combination between the knowledgeable expertise of Sanwa Company as kitchen manufacturer and the sophisticated woodworking technology of Karimoku gives birth to a new kind of spatial layout, where the concepts of functional kitchen and wooden
sideboard have a superb balance.

In this project, horizontal and vertical volumes are counterposed, creating grids inspired by modernist buildings. CH 01 is perfectly consistent with its essential nature and realized in the precious Japanese Nara wood and with the most updated Japanese technology. Thanks to its refined materials and finishes, its modular system (available in three different dimensions), its functionality – the countertop contains the sink and a useful cooktop -, the kitchen evokes the concepts of minimalism and suggests sophisticated and contemporary living spaces. A wall shelf, also made of Japanese Nara wood, complements the kitchen.
* For further inforamtion: info.sanwacompany.co.jp