23 enero, 2020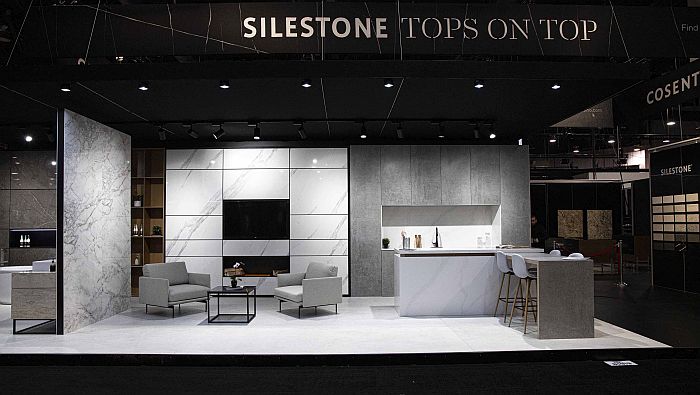 23.01.2020 Cosentino reveals stunning product designs, innovative collaborations, new trade programs and festive activations at the Kitchen & Bath Industry Show, KBIS, in Las Vegas, NV from January 21-23, 2020. KBIS is one of the world's most important trade shows for the kitchen and bathroom sector.
Dekton by Cosentino at KBIS 2020
Dekton Liquid by Patternity
Designed in collaboration with London-based pattern experts and designers Patternity, the collection is comprised of three colors that visualize the power of liquid, offering a chance to integrate swirling, rippling and fluidity into the design experience. The Dekton Liquid Collection features three colorways. Liquid Shell, Liquid Embers and Liquid Sky, center around the beauty of nature, environmental awareness and celebrating sustainable design practice: 
Shell celebrates subtlety and softness, honoring what lies beneath the waves in the ocean and the ebb and flow that comes with the changing of currents. Liquid Shell is also inspired by the moon and its connection to the tides, a varying off-white with a rippling pattern that captures the landscape of the ocean floor.
Embers represents a meeting point between fire and liquid. Reminiscent of magma, Liquid Embers is a dark, carbon-like design that visualizes the alchemy of the elements.
Sky explores the movement of gravity, the interplay of the elements, and their matter. It's swirling, cloud-like pattern of a white base with flowing gray veins pays homage to kinetic energy and perpetual motion.
Dekton Chromica by Daniel Germani
Designed in collaboration with Daniel Germani Designs, Dekton Chromica is comprised of two deeply saturated hues, Baltic and Feroe, their sleek matte finish exudes drama and sophistication — drawing inspiration directly from nature's wildest and most remote places while reflecting Mother Nature's force and determination.
Baltic emerges from the most daring depths of the sea, from the struggle between light and darkness to master the nuances of the ocean. A pure, aesthetic concept in dark blue that boasts a strong yet serene personality.
Inspired by the hidden and unexplored corners of nature, Feroe combines a subdued and sophisticated character, resulting in a unique dark green hue. A tone created in harmony, it perfectly complements warm, fresh design palettes
Exclusive colours Dekton 2020
Cosentino also shows new shades of Dekton that will be launched in the spring of this year. Colours of great chromatic richness that multiply the possibilities of the most avant-garde projects. The new colours Laurent, Helena and Khalo allow to create luxury spaces where design is the true protagonist. The collection draws inspiration from the most coveted natural stone materials – with spectacular shine and unrivaled durability.
Dekton Bromo and Milar
Inspired by natural rocks, Bromo and Milar are two dark, matte shades with a soothing elegance that imbue interior and exterior decor with personality.
Bromo is a dark blue shade, inspired by homogeneous metamorphic rocks such as slate. Subtle, faded graphics, a careful-created texture and a natural aesthetic define this evocative colour proposal, perfect for any type of environment.
Milar. Grey and brown colours come together to form the basis of the new Milar colour palette, giving rise to a theme inspired by oxidised and faded-looking materials. Its bright, dotted graphics and its dark, sweeping shades create a strong personality, turning it into a versatile and full-bodied colour.
Silestone by Cosentino
Meanwhile, the leading global brand in quartz surfaces Silestone unveils new colours that will be launch commercially throughout the year.
Silestone Artika
Inspired by onyx and quartzites materials, the Artika collection is an advanced and innovative Silestone series comprised of two hues: Polaris and Laugar. Both materials present a characteristic look with high translucence and purity, which translates in a high value and quality aesthetic.
New Silestone Eternal 2020
Following the introduction of the Silestone Eternal Series in 2017 and its expansion in 2018 and 2019, Cosentino will add new colours to the collection: Silestone Eternal D'Or and Silestone Eternal Bella.
Sensa by Cosentino and Cosentino WE at KBIS 2020
Featuring the exclusive Senguard NK stain protection, Taj Mahal and White Macaubas, join the Sensa Premium collection, which offers customers both protected granite and quartzite surfaces, providing a wider choice and a selection of striking designs.
In addition to its new product launches and collaborations, Cosentino announces the launch of Cosentino WE, a new international digital community that connects the various professionals who choose and endorse the Cosentino surfaces. Cosentino We offers a range of opportunities for stonemasons, kitchen retailers, architects and designers to grow their businesses, such as better access to information, enhanced ways of experiencing the brands and products thanks to new and agile digital tools, a closer relationship with the end client, greater visibility and awareness for their projects and the creation of a dialogue among professionals from different nationalities, and even different languages.
*For further information: www.cosentino.com/es
---