21/11/2019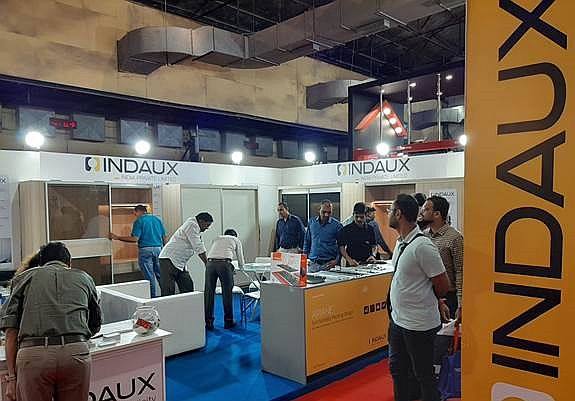 21.11.2019 Indaux India participated in the Acetech fair that took place in Mumbai from the 7th to the 10th of November. This is the main trade exhibition in the country, and showcases the latest developments in architecture and interior design.
At the Acetech exhibition, Indaux India focused on products aimed at this customer segment, such as sliding door systems, drawer systems and hangers for wall-hung kitchen units. There were a large number of visitors, most of them architects, interior designers and furniture manufacturers; the success at Acetech of the Junior CO, Indaux's unique coplanar door system, cannot go unmentioned. After five years of learning and constant challenges to establish the subsidiary in India, Indaux has become a serious and acknowledged player in the market.
Visitors know us and have heard positive reports about our products, our team and our market offers and this opens up a wide range of opportunities that we need to tackle as effectively as possible, says Pablo Arratibel, Foreign Subsidiaries Manager of Indaux.
Nowadays Indaux India is commercially established in the North, South and West of the country, and indirectly manages a network of 1,000 secondary customers who offer the Indaux product to customers throughout the country.

Indaux leads two R&D projects promoted by the Basque Government
Furthermore, two research projects, Polisurf and Joint, that are participated by Indaux, have been launched within the Hazitek 2019 programme of the Basque Government to support R&D of companies and boost the circular economy.
The Polisurf project aims to eco-design and manufacture a new polymer from recycled plastic, but with a metal finish. Several companies from various sectors are involved in the project, which will be carried out in advanced and environmentally friendly manufacturing environments. The results will help Indaux to improve its international competitiveness and will be a driving force for the rest of the Basque business fabric.
On the other hand, the aim of the Joint project is to use recycled material to manufacture a hidden connector fitting for panels that simplifies the assembly of furniture for the end user as much as possible and offers a creative solution to furniture manufacturers. Both projects form part of the specialisation areas of the Science, Technology and Innovation Plan, Euskadi 2020.
*For further information: www.indaux.com