11 julio, 2019
More visitors, exhibitors and internationality: 2019 was the world's leading supplier industry trade fair Interzum's most successful year ever, and Grass, the specialist for movement mechanisms, also saw exceptional visitor numbers.
11.07.2019 In the area of movement mechanisms a Interzum 2019, Grass offered a whole range of new solutions and presented these in a new, contemporary ambience that was primarily defined by the company's new corporate identity: the fresh, modern look of the stand in Hall 7.1 matched the movement mechanism products that are driving the interior design of the future.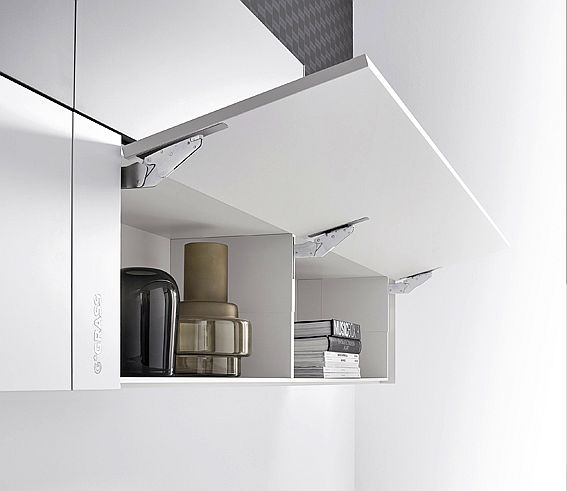 With around 5,000 visitors from more than 80 countries, the Interzum 2019 was one of our group of companies' most successful trade fairs, says Grass Manager Albert Trebo, looking back on the event. At the end of the Interzum's four days, a total of 74,000 visitors from 152 countries had visited the Cologne exhibition grounds. All of them were looking for answers to the challenges the furniture industry must face. The visitors were particularly interested in the new concealed flap lift system Kinvaro T-Slim, which was presented in Cologne in surroundings that matched the company's new CI.
Kinvaro T-Slim
The new development Kinvaro T-Slim, a sprung door hinge that sits so flush with the furniture that it is almost completely invisible, perfectly exemplifies this characteristic. Especially these days, when interior design is becoming increasingly open-plan, it is important that the functional furniture components match the overall design of the piece of furniture. In the past, storage furniture used to be closed; it is now transparent, its contents visibly on show. Kinvaro T-Slim is therefore a product that absolutely meets the zeitgeist.
The visitor frequency at the Grass stand was extremely high, from the moment the fair opened to the last day. Besides Kinvaro T-Slim and the Tipmatic Soft-close solution for lightweight drawers such as those used in bathroom furniture, for example, the visitors also particularly liked the full extending drawer runners Nova Pro. With a load capacity of up to 50 kg, the system is perfect for the respective furniture manufacturers. Particularly in the kitchen, the full extending drawer runners are ideal for waste separation systems, for example. The drawers now extend an extra up to 70 millimetres, making access more comfortable, and their synchronisation ensures that they run smoothly and silently.
* For further information: www.grass.eu
---