13/11/2020
LIGNA 2021 goes into autumn, postponing its original event date from May to 27 September to 1 October 2021.
Following intensive reflections and discussions, and in view of the current developments in the global incidence of infections in the wake of the corona pandemic, Deutsche Messe and the German association VDMA have jointly decided to postpone LIGNA by around five months next year.
«Due to the ongoing pandemic, increasing restrictions and the renewed lockdown, there is great uncertainty in the market. We take this very seriously», emphasizes Dr. Andreas Gruchow, Deutsche Messe Managing Board member.
A difficult but essential decision
«The decision to postpone LIGNA was a very difficult one for us, but it is the only consistent measure to give all those involved planning security and the necessary lead time for preparations. At LIGNA, we have to take into account that entire machine parks are designed, assembled and presented in live operation with a long lead time and at great expense. This requires trade show planning that takes many months. This can only be achieved in conjunction with a sufficient number of international decision-makers on the visitor side. To ensure that LIGNA, the world's leading trade show for the sector, can live up to this expectation, suppliers and users alike must be given sufficient planning security for participation – and this is significantly higher for September/October than for May 2021». There are statements by Andreas Gruchow.
International wood industry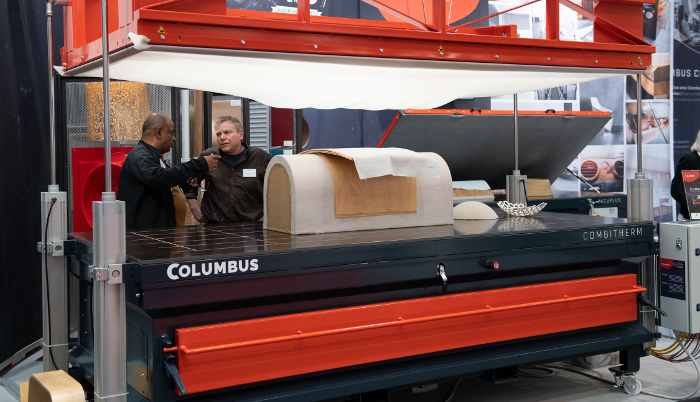 As co-organizer of LIGNA, the VDMA also sees the postponement of the event date as the only effective means of successfully staging the world's most important trade show for the international wood industry in the interests of all participants. «The postponement of LIGNA is absolutely necessary. It is the world's most important platform for our companies and the customers of the woodworking and processing industry,» says Dr. Bernhard Dirr, Managing Director of the VDMA Woodworking Machinery Association. «The industry needs this marketplace. With LIGNA in September 2021, we want to send out a signal of new impetus and investment in the global marketplace».
The three focal themes of LIGNA.21
«We are already looking forward to numerous innovations, particularly in the three focal themes of LIGNA.21 Woodworking Transformation, Prefab Building Processes and Green Material Processing», adds Christian Pfeiffer, Global Director LIGNA & Woodworking Shows at Deutsche Messe. «In September, LIGNA.21 will be held as a hybrid event for the first time; underscoring its function as a leading industry event and presenting the world's range of tools, machinery and equipment for woodworking and wood processing».
* For further information: www.ligna.de
13.11.2020