Neolith, in the cooking school by Nonna Paperina
---
Tiziana Colombo presents her cooking school, Nonna Paperina. Popularly known as Nonna Paperina, she is one of the most recognisable faces in Italian cuisine.
20.06.2019 Sensibly concerned for the world of food intolerances and after 30 years inmersed on it, in 2004 Tiziana Colombo launched a blog on the subject. Two years ago, she decided to embark upon a new project, building her own cookery school located in Brianza (Italy), for sharing her recipes and demonstrate how to create tasty dishes for people with intolerances.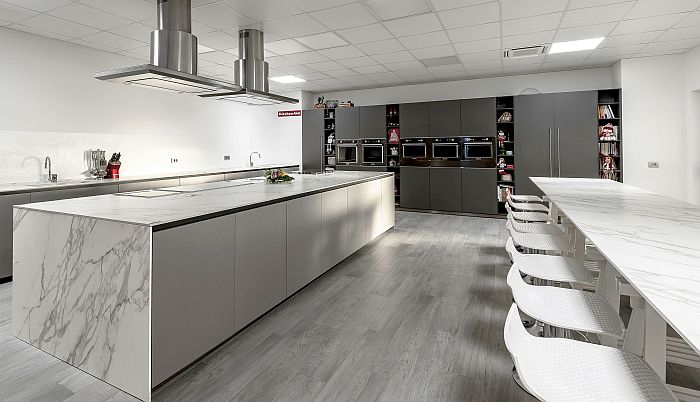 So, Neolith Calacatta was chosen forn the new cooking space of the popular Italian food specialist, Nonna Paperina, because Tiziana needed an exceptionally hygienic surface, easy to maintain, resistant to knife-work and tolerant to extreme temperatures.
I loved the brand's range of marble-effect surfaces, crisp white slabs with vividly dark veining, and knew I had to have it for the school, said Tiziana.

For that, she chose the Calacatta model for the demonstration bench, worktops and tables throughout the school's instructional kitchen, perfectly complementing the white and grey color palette she had chosen.
Here you con watch a video about Nonna Paperina and Neolith.
* For further information: www.neolith.com