8 mayo, 2020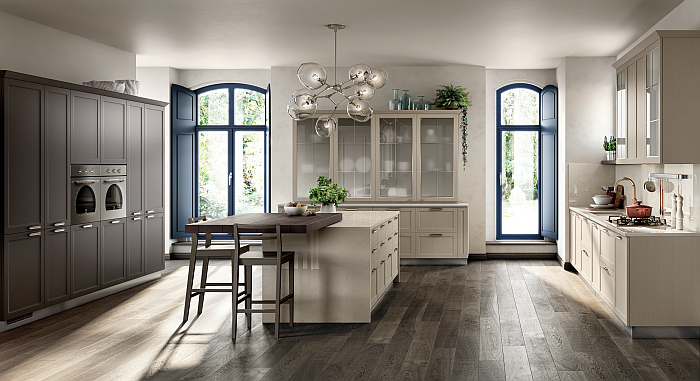 08.05.2020 Carattere kitchen is a project by Scavolini, distinguished by aesthetics of the first order, where beauty, class and design blend to enhance the kitchen environment. Its striking elegance is now embellished with new elements with the aim of satisfying a market. That is increasingly attentive to detail and demanding in its search for finishes and versatility of styles.
The signature feature of this model is the frame door that brings together the balance of classical proportions and clean-cut shapes. Today, the more contemporary appeal of Carattere is expressed in the new range of glossy lacquered finishes. It joins the range of matt lacquered finishes to enhance its cosmopolitan appeal. The veneered door, which bestows the model with the warmth and charm of country homes. Also has four new shades: Cashmere Pinstripe Ash, Cloud Pinstripe Ash, Capri Pinstripe Ash and Iris Pinstripe Ash.
Numerous customised elements
A new ally of the more classic and retro profile is the cornice introduced with the English-style leaded glass, also available for glass fronted units resting on the worktop. There is no shortage of interesting and innovative technical aspects, like the Opus equipped wall panel in painted metal available in Desert and Silver Dark.
The opulence of this version sees the implementation of numerous customised elements like the renewed range of handles – which demonstrate Scavolini's attention to detail. And the Orizzonte Up magnetic backsplash in stratified laminate that can be combined with the new collection of Magneto accessories, wonderful allies in the kitchen.
As in all Scavolini collections, each variable is carefully designed so that the light also plays an important role. Available inside wall units and tall units, and also in the wall panel between the base units and shelves, ielps to define the spaces making the project even more feisty.
All of the Carattere restyling elements stand out for their ability to respond to the needs of new lifestyles and to the continuous evolution of living trends. A highly modular proposal capable of shining with its allure to enhance both limited spaces and extensive areas.
*For further information: www.scavolini.it
---