13 octubre, 2020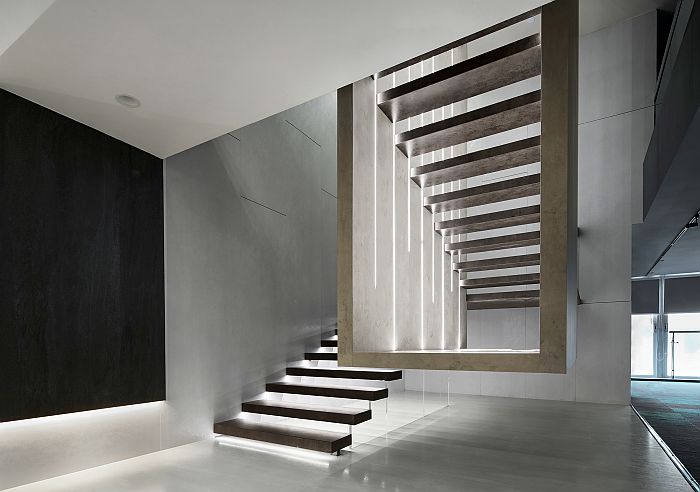 Neolith, the pioneer Sintered Stone brand has seen a rise in popularity among Chinese design and construction professionals ever since it arrived in the country in 2012. Thanks to this recent boom, Neolith surfaces have been used for all types of interior and exterior projects from luxury home kitchen countertops to facades on impressive skyscrapers. As the Neolith presence continues to expand, the brand's physical presence in China has been increased by creating a Neolith Urban Boutique (NUB) in Shenzhen. So, consumers can find out about the wide range of quality surfaces first-hand in a practical way.
A futuristic showroom
In collaboration with the Chinese distributor TechSize and Willow Design Co. Ltd, Neolith has installed more than 550 m2 of surface area in its unique showroom, NUB Shenzhen in Shenzhen, Guangdong. This metropolis, which is one of the most famous creative cities in China, is the perfect location to highlight the versatility of the surface and the one-of-a-kind collection of models and motifs.
China is one of the markets where we're most rapidly growing and it has a dynamic, constantly-evolving architecture and design scene. This unique space reflects this and offers installers a chance to get a look at the universal attraction of Neolith surfaces. The reasons are its magnificent esthetics, unbeatable properties or high levels of hygiene and sustainable production, says Mar Esteve Cortés, Neolith CMO.
Play of light
Lights and shading played a fundamental role in the conceptual design of this space. Designer Hu Youliu aimed to demonstrate how to combine Neolith patterns with strategically placed lighting to cause an impact with the visual effect. One of these areas is a hallway cladded in Aspen Grey and lit up with LED strips timed to turn on in waterfall form as visitors walk through to create a sophisticated and futuristic look.
Upon installing the material on all the surfaces, we were able to demonstrate its versatility and flexibility. To boost the visual attraction and highlight the incredible level of detail and definition in each slab, we installed linear lighting for a minimalist and modern experience. This holistic application makes for a surprise factor that invites guests to submerge themselves in the world of Neolith, set their creativity loose and encourages them to work with the material, states Hong Jiahong, Technical Director of TechSize.
The lighting mechanisms were also carefully positioned by NUB Shenzhen to add relief to the different Neolith slabs, making certain applications stand out such as a minimalist drawbridge staircase cladded in Iron Moss, and emphasize its sculptural beauty.
Large scale
The choice of materials is a faithful reflection of the Neolith 360º approach which is suitable for use on any surface. For example, floors, walls, ceilings or countertops, furniture and even staircases. The sophistication of the details is obvious in most of the fixed elements featured throughout the Neolith cladded space. Some of the most outstanding include a set of curved, multi-layer chairs cladded in Zaha Stone. Each one of the strata comprising them is a little narrower than the previous one to create a hypnotic effect.
The perfect combination
Symmetry, continuity and contradiction were some of the designer's main considerations. They wanted to show how Neolith can be used for pure designs yet at the same time, reflect visual contrasts. One area of NUB Shenzhen that perfectly does this is a meeting room created especially for the occasion using the Estatuario model with the bookmatched mirror effect.
Another two walls in the central and reception area at NUB Shenzhen highlight homogeneity and juxtaposition. One of them is complemented with a wall in Calacatta while the other, which has a phrenetic look, is cladded in square Estatuario tiles positioned asymmetrically. The effect of the latter is intensified by the presence of a large reception desk cladded in Iron Moss.
The center of attention
Hu Youliu wanted to create a destination for the Neolith design community with inspiration from places of cultural importance around the world without sparing on attention-grabbing unique features. Some of them get visitors' attention as soon as they arrive such as a world map made up of various Neolith models while others require careful exploration of the showroom to see them. Essentially, entering NUB Shenzhen is like going into a modern art gallery full of valuable and virtuous works of art.
Neolith Urban Boutique Shenzhen
NUB Shenzhen is the latest exclusive showroom to be inaugurated by Neolith. It offers visitors from all over the world the chance to really get into the world of Neolith and discover all the possible applications. Neolith Urban Boutiques have already been set up in other large cities around the world such as Medellín, Amsterdam, Milan, Madrid, London and Düsseldorf. Shenzhen is the first city on the Asian continent to have an exclusive Neolith boutique.
*For further information: www.neolith.com
14.10.2020
---