17 octubre, 2019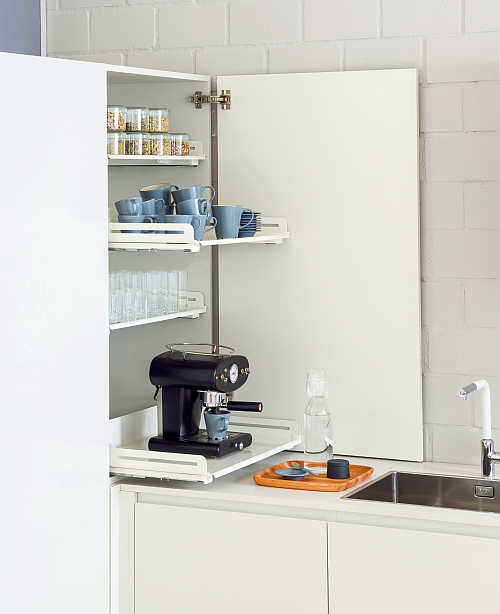 17.10.2019 Furniture choices influence the quality and functionality of a space, and visitors to Swiss furniture and fitting manufacturer Peka, at SICAM 2019 will find out how. Peka's sleek, stylish unit and shelf systems lend kitchens, living areas, bedrooms and offices a touch of understated elegance, as well as offering breathtakingly original ways to use the space more effectively than ever before.
Thus, the latest storage solutions are the perfect embodiment of this. They provide practical responses to the little niggles we encounter in our homes and ensure that there is always plenty of organized, accessible storage space, no matter how small a room. The company's Sicam stand features an array of novel ideas that showcase the flexibility of Peka's systems and their adaptability to any application and any place.
Peka, at SICAM: back to basics
With its stripped-back design, Peka's stand at SICAM is every bit as simple and inventive as its products. Upon approaching the stand, visitors see a collection of stark black cubes silhouetted against a backlit fabric wall. The surprises only really start when the cubes begin to unfold: with just one gentle touch, the unit doors open, revealing the astounding variety of pull-out systems offered by Peka. The stand's dark backdrop really makes the anthracite, white, wooden and coloured fittings pop, while the colours of the unit interiors and systems have been selected carefully for an attractive, harmonious effect.
Pleno Plus larder unit system
The larder unit is one of the most frequently used units in almost every kitchen. With its inventive designs and ingenious innovations, Peka has truly made this kitchen essential its own. Pleno Plus's entire contents slide out into view with just a gentle tug. The upper shelves are even split in two for optimum visibility, like in a fridge. One quick glance allows users to see everything inside their unit, and one easy step is all it takes for them to reach the groceries or dishes they need. The larder unit is now available in all designs from white to anthracite with wood.
The Trio larder unit system
Trio is Peka's efficient storage solution for price-conscious customers. When the unit door is opened, the top part of the storage area splits into shallow fixed shelves and three-door shelves, giving users an excellent overview of all their groceries and eliminating the need to rummage around in the back of the unit. The two Extendo shelves in the bottom part of the unit can be pulled out for exceptionally easy access to heavy items like pots.
Fioro: beauty comes from within
With Fioro, users can have an outstanding design on the inside of their kitchen units too. Fioro pull-out shelves are crafted from a single piece of top-quality coated sheet metal, ingeniously combined with railing inserts for an eye-catching effect. As well as winning both a Reddot Design Award and an IF Design Award, Fioro secured the Best of the Best quality label in the Intelligent Material & Design category of the 2017 Interzum Design Award.
Click Stop: from pull-out shelf to work surface
Click Stop temporarily transforms pull-out shelves into fixed work surfaces. One simple idea, so many practical applications: Click Stop could be used to create a laundry folding area in the utility room, handily store a coffee machine in a corner or kitchen appliances in a larder unit, or produce a home office workspace from a sliding-door unit. The shelf locks in place automatically when it is extended out of the unit and unlocks with a gentle pull. Click Stop can be used with both wooden shelves and Extendo pull-out shelves.
Pecasa shelf system
Pecasa shelf system is structured around the central wall profile that holds everything together. Users are free to choose any combination of shelves, cabinets, desks and clothes rails and position them however they like for a custom furniture solution. No matter the size or shape of the space or the height of the ceiling, the highly flexible Pecasa system is the perfect fit – be it in a home office, a living area, a bedroom or a hallway. The wall profile is now available in white.
Sesam Bag: the compact recycling station
Cleaning and housekeeping items often have to be kept in the most awkward places. With the Sesam Bag recycling station, recyclables are suspended in a carry bag that is both practical and easy to remove and transport to the collection point. Users can team Sesam Bag with the Sesam Standard shelf system for cleaning cupboards or Peka's new dustpan and brush holder to create a customized storage solution that meets all their housekeeping needs.
As ever, Peka is also displaying at SICAM a number of its latest developments in the form of use cases – these include the Riverso drawer, which can be pulled out from both sides, and the new Magic Corner Maxi corner unit solution, which offers plenty of storage space for even the bulkiest of kitchen appliances.
*Para más información: www.peka-system.ch
---