01/07/2020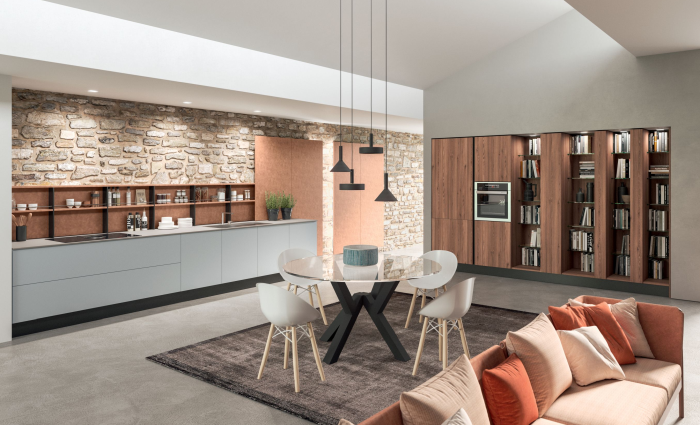 01.07.2020 This year, 2020, brought many innovations in Aran Cucine, including Penelope kitchen restyling, one of the firm's most popular models among the consumers. The contemporary style, the endless possibilities for customization and the high quality of the materials make this kitchen easily adaptable to any housing context. Whatever it may be.
Many possibilities of customization
The new colors, the combinations of materials and some storage elements able to combine design and functionality dictate the style rules and differentiate the various versions.
Among the many possible compositions stands out the one with the HPL Grigio Opaco bases, the HPL Brown Larch columns and the Corten Touch wall cabinets. Warm, natural and pastel tones harmonize together in a decidedly trendy mix. And they enhance the minimal lines of the kitchen. The wall unit, defined by essential modules with push-pull doors, houses the worktop in multi-layered HPL Argilla Cuore Colore, the sink and the hobs. Copernico back panel, available in the same wall cabinet finish and embellished with black aluminum details turns out as a practical space-saving solution, in order to make room for the items you should always have on hand.
Protruding door
Moreover, the columns house the household appliances and a series of glass shelves, ideal as elegant open shelves. But the most innovative element is certainly the wall cabinet. High-rise and only 15 cm deep, with internal shelves and LED lighting system, is characterized by the protruding door. This element, sticking out from the cabinet almost hiding it, provides a strong aesthetic impact.
The wide Penelope kitchen catalogue by Aran Cucine, thanks to the countless finishes and the possibility of customization, allows you to create very different compositions and to meet new tastes and needs. This is a further confirmation of the company's ability to keep up with the times providing timely answers and solutions to any need for change. So, Aran Cucine has always been at the forefront of producing high quality products and over the years has produced innovative materials to satisfy both need and taste.
*For further information: www.arancucine.it