Scavolini's Diesel Open Workshop, at Design Post Köln
---
Scavolini's Diesel Open Workshop, at Design Post Köln: the showroom for new design trends situated just a stone's throw from Imm Cologne.
24.01.2019 Design Post Köln opened its doors on 14th January, concurrently with Imm Cologne, the reference international event for the world of furnishings. Here, in the spectacular historic halls of what until the 1990s was the post office in the Deutz quarter of Cologne – just a stone's throw from the famous trade fair – the corner dedicated to the Diesel Living collections includes a display of Scavolini's Diesel Open Workshop which crosses boundaries to furnish both kitchen and bathroom environments.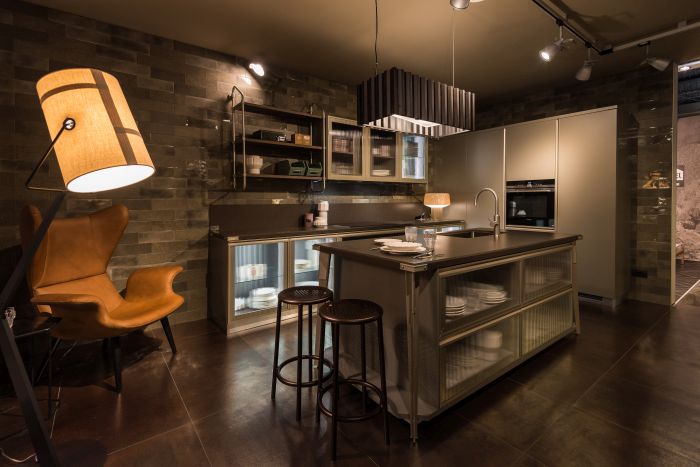 A showroom for design aficionados, a boulevard for aesthetes and a source of inspiration for design industry professionals: this is the concept of Design Post. The venue, which consists of large glass and iron buildings, is hosting – for the twelfth year running – a permanent design furnishings exhibition that greets visitors with a bright, laid-back ambiance.
Scavolini's Diesel Open Workshop is included in this exceptional location with impeccable balance: indeed, its warm approach to the domestic environment and strong industrial vibe clearly stand out in this design.
Diesel Open Workshop
From an architectural point of view, the character of the Diesel Open Workshop is obvious in the modular metallic structures with a clear industrial twist, that play the starring role in the Stock Rack system, a modular structure which, thanks to the clever mix of solids and voids, allows the construction of compositions with an unmistakable metropolitan soul, accentuated by the use of matt shades that combine to create comfortable and casual environments.
The spaces are interpreted as a place of intimacy, personality and, at the same time, for socialising. At the centre, remarkable attention to style, right down to the detailing, the materials and the textures, to create simple geometry but with attractive designs, beloved by an audience that seeks «apparent» simplicity of form.
The presence of the Diesel Open Workshop line at Design Post Köln is a significant opportunity to showcase once again the quality Made in Italy offered by Scavolini. In fact, being a showroom where products cannot be purchased directly, it is an inspiring place for consumers, architects and designers from all over the world.
* For further information: www.scavolini.com