3 octubre, 2019
95 years of Schock, 40 years of Schock sinks – the manufacturer of quartz composite sinks and high-quality mixer taps is not only coming to Area30 with two anniversaries to celebrate.
03.10.2019 As an innovation driver brimming with the spirit of invention, Schock wass also bringing numerous innovations to the exhibition grounds in East Westphalia. Alongside new sinks, accessories and mixer taps, the focus was on material innovation.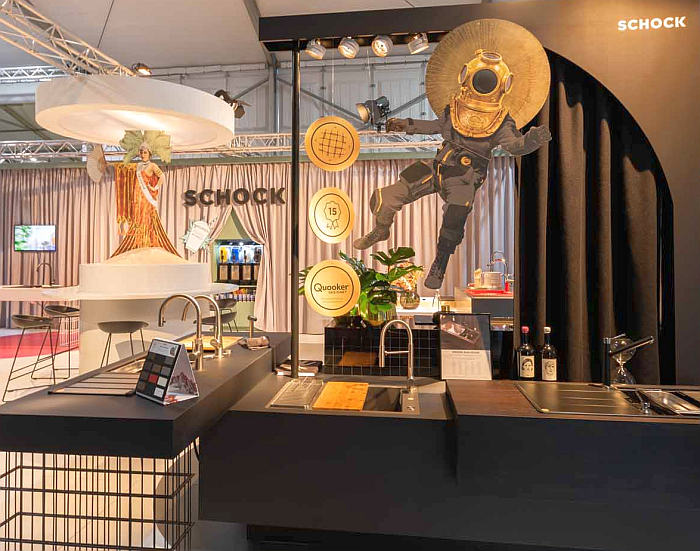 The best Cristadur of all time
Always looking to make the best even better, sink pioneer Schock has further enhanced its exclusive Cristadur material. With an improved formula, the new Cristadur is taking the world of sinks by storm. It is even more elastic, easy to clean as ever, even more long lasting and therefore even higher quality.
New colours
Schock offered ideas for where and how to use stylish gold hues on several levels at Area30. As the first colour for the new Cristadur finish, Schock has added Gold Brass to its portfolio, a shade of brown a touch lighter than bronze which give a sense of luxury. The Cristalite Golden Line has acquired a new shade called Cascada. Behind the name is a dark cream colour, which also conveys a hint of the much-loved precious metal. There's golden news for the mixer taps range, too: Schock introduced a new White Gold finish for various mixer taps and trim parts to go with Cristadur sink models. And alongside the on-trend finishes Copper and Gunmetal, cool Champagne Gold was another PVD coating.
The sink, a multifunctional food prep space
The sink is much more than just a sink. Nowadays it is a central area for prepping food. Schock has long been driving this trend towards multifunctionality with cleverly designed sinks and matching accessories – making the concept available for every size of space. The well-known models Prepstation D-150 and Mono D-100XS are just two examples. New additions to the range – the Greenwich N-100XL and Greenwich N-200 models – are two classic undermount sinks featuring no drainer and an integrated lip.
While the Greenwich N-100XL with its external dimensions of 750 x 456 mm boasts one large sink, the Greenwich N-200 has the same dimensions split between two sinks. What both models have in common is that they fully live up to their reputation as multifunctional, professional sinks with interesting accessories: in addition to wooden and plastic chopping boards, a rack to hold Gastronorm accessories creates an interface to professional-style extras. As stylish extensions to the Schock portfolio, a portable draining board available in silicone or stainless steel finish and a designer draining rack in various colour variants are perfect companions for various undermount sinks.
Tia D-100L
Schock was unveiling a highlight in the form of the new Tia D-100L. The first sink to be seen in the new Cristadur material not only shines with its perfect finish; with genuinely clever and practical accessories it is also a real help in the kitchen. This new model is an excellent match for the increased demand for large sink bowls – and it's not the only one: the above-mentioned Greenwich undermount models and the Ronda D-100XL and Wembley D-100L are also great for fans of large sinks.
The firm boasted a second material innovation in its accessories range. Fibre-Rock is a new, matt black chopping board finish that combines the properties of a wide variety of materials: it is dishwasher safe, easy to clean, has a cut-resistant, smooth surface and at the same time is easy on the knife blade. Fits all 500 mm wide sinks.
Mixer taps for the perfect sink centre
Schock supports the trend towards multifunctionality with its new mixer taps, too. Boasting technical refinements such as the ultra-quiet aerator for a soft and quiet water jet, or the pull-out spout to increase your radius of action at the sink, Schock mixer taps are state of the art. At the same time, it is the designs that ensure maximum diversity in the kitchen. Schock has developed six new mixer taps for the 2020 portfolio: the Resi, a high-quality farmhouse mixer tap, the industrial-style Tanos, the semi-professional Sina, the Papilio with its unusually flat spout, the Evinas entry-level mixer tap and the flexible Laios W suitable for installation right in front of the window.
*For further information: www.schock.de
---