18 febrero, 2021
According to experts from The Spanish Kitchen Furniture Association (AMC), contrasting colours, natural materials and open layouts will dominate kitchens trends in 2021.
The pandemic highlighted the relevance of kitchen and how essential it is to have a perfect and comfortable kitchen to enjoy at home. The restrictions on mobility and the constant lockdowns have pushed people to make their kitchens perfect, highly increasing the number of refurbishments and removals. Due to this, the Spanish Kitchen Furniture Association (AMC) has compiled the trends that according to its experts, will give a fresh air and modern look to the kitchen.

Multifunctional kitchens, the key to face this new year

The goal for this year will be to achieve a multifunctional kitchen where not only cooking or eating, but also working or studing. In this sense, an open layout kitchen -that leads to the living room- will predominate because of its comfort and versatility and an open shelves trend will stand out, providing the feeling of spaciousness, as well as extra storage space.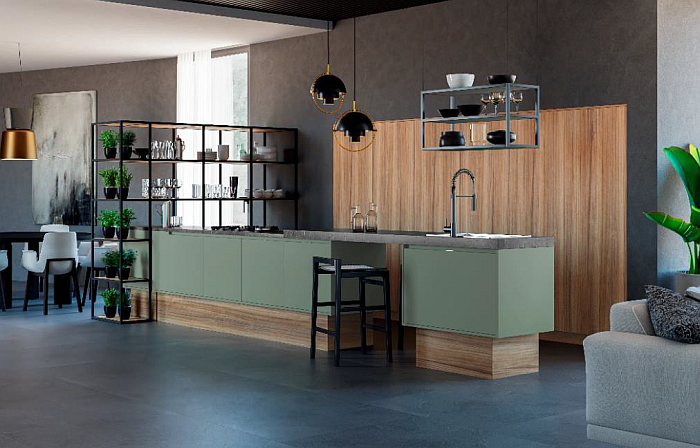 AMC has also noticed a higher demand for large tables and kitchen islands because families spend more time at home and the kitchen has also become an office or school space, that demands a larger work surface. Ergonomic and comfortable kitchen chairs are also becoming essential.

The most prominent trend in a home layout, will be the kitchen-living room-terrace trinomial.
Lockdown has pushed us to value home outdoor spaces

Courtyards, terraces and gardens will gain prominence this year and will become part of the kitchens, bringing light into them and making possible to enjoy cooking or working in an open air space.

Natural materials furniture
Sustainable and eco-design furniture has been a growing trend and will gain even more weigh in 2021, so natural, recycled and eco-friendly handcrafted materials will become essential.

According to AMC members, this year wood in all its varieties will be present: woods with very marked knots, medium tone woods, natural oak laminates or fine woods such as chestnut.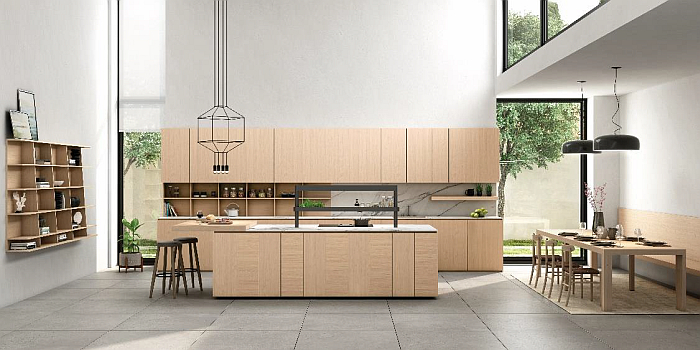 Porcelain will be the trend setting material for countertops, as monochrome textiles will be for chairs upholstery.

Other materials that will be present this year in our kitchens are marble, bamboo, glass and metal.

According to AMC experts, in 2021, a mix of colours and textures will dominate, so the combination of different materials, predominantly natural and handmade, will be essential.

Contrast colours
2021 is a year of contrast and this will be reflected in kitchens through colour. White and pale colours, as well as black, anthracite grey, graphite or navy blue, all with an extra matt finish, will starr.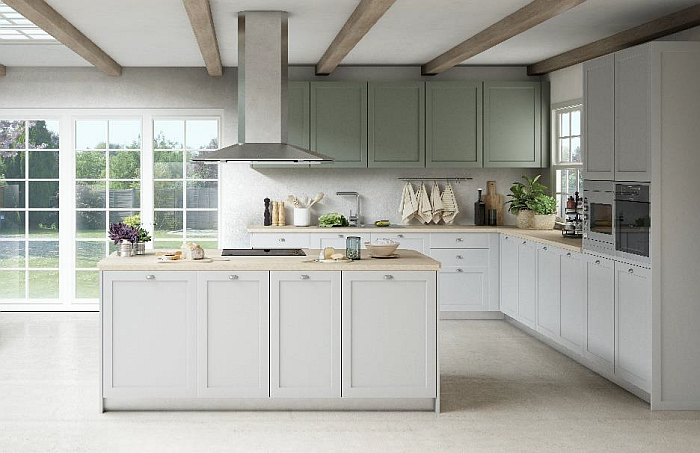 Colour will also represent an escape to nature through terracotta, greenish, orange or intense blue tones.

Along with this, AMC associates confirm that the predominating colour in 2021 will be an a comination of Ultimate Grey and Yellow Illuminating, as Pantone claims. The experts point out that the mix of these colours represents the optimism and strength we need to face this year.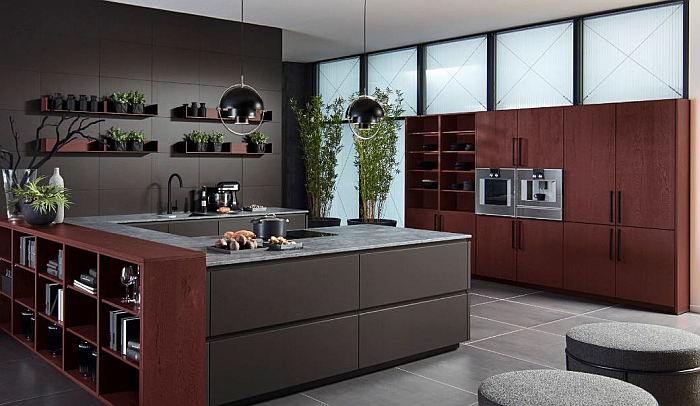 Chairs will be the colourful highlight this year, as the color trends in upholstery will be soft and cheerful blue and pink tones. Also, antibacterial fabrics will predominate. These textiles are anti bacteria, anti abrasion and anti stains, characteristics that make them perfect for the kitchen.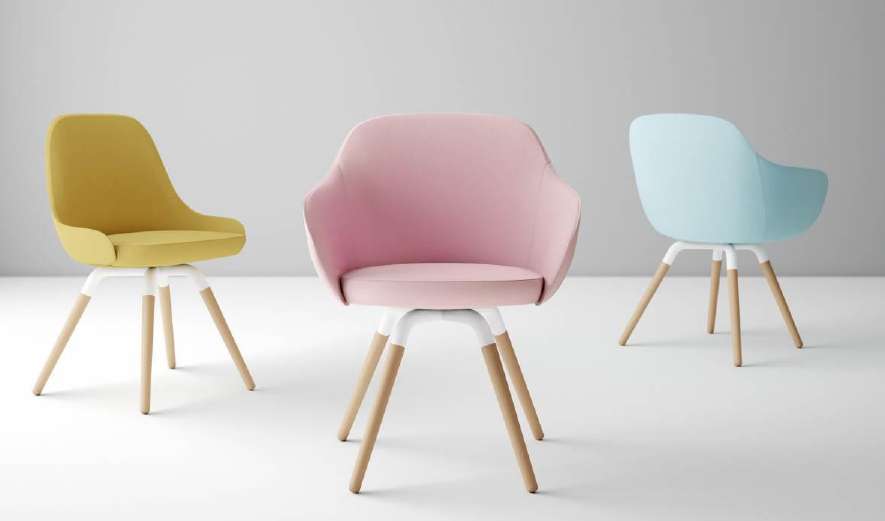 Simplicity in furniture design

In 2021, kitchen cabinets clean lines and light aesthetics will predominate and cabinets will be equipped mostly with flat or round structural rims. However, every detail counts and handles in kitchen furniture will be a must, as its design can change the entire kitchen style. This year, discreet handles in black, satin nickel, pewter and antique brass, always with a matt finish, will be in vogue.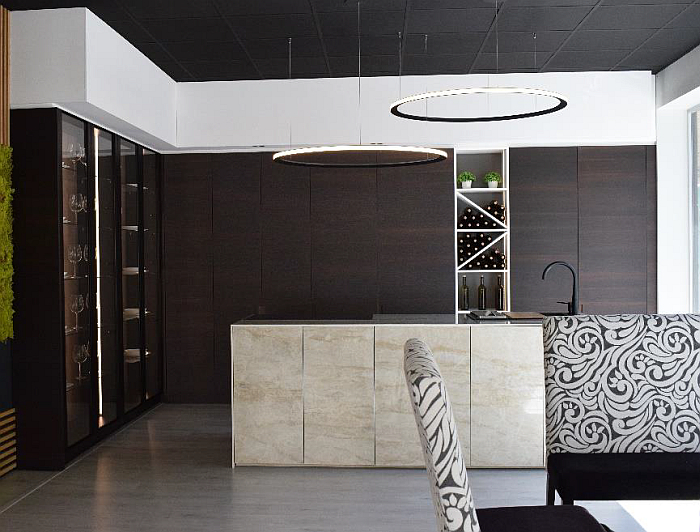 Innovation and design in kitchen appliances

A minimalist aesthetic and a functional -and ergonomic- design will prevail in kitchen appliances. Appliances colours and materials will not be daring and the classic materials: glass, metal, white and black will be predominant.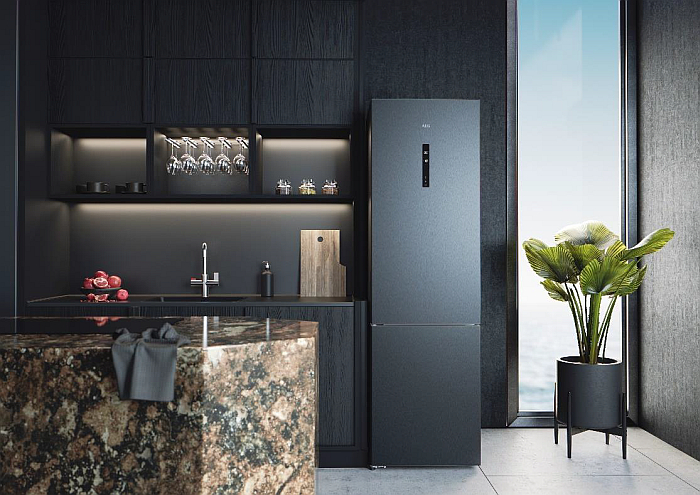 Smart Kitchens will gain momentum due to their technological innovation, which at the same time promotes energy efficiency and sustainability. Appliances are becoming increasingly intuitive, simplifying cooking and making kitchen tasks more agile.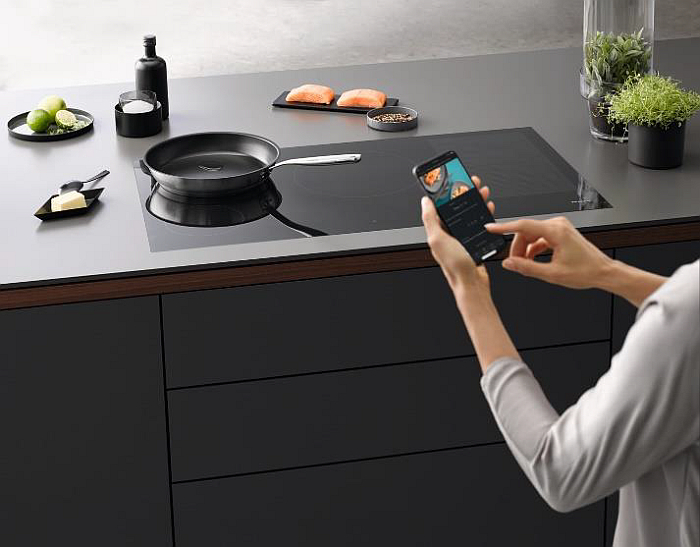 *For further informacion: www.amcocina.com
18.02.2021
---