24/11/2020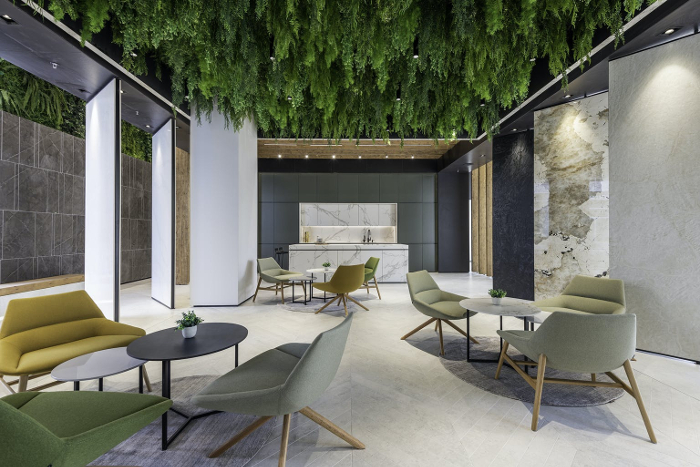 Cosentino Group bets on Tel Aviv and Amsterdam for launching its 14th and 15th "Cosentino City" worldwide; a multi-purpose dynamic Showroom that works as a comprehensive inspiration platform.
Cosentino City Tel Aviv
Every detail in the space is regarded as an inspiration. It offers an unparalleled technological and sensual experience for the wider community of architects, interior designers, developers, contractors and end consumers. This innovative concept seeks to attract the visitor through an inspirational experience and integral digital service, offered by specialist professionals. Thanks to this concept, the visitors can define, create and visualize their projects using the technological equipment and augmented reality.
Cosentino City Tel Aviv spans a floorspace of 650 sq.m. with three separate spaces, each dedicated to different content. Combined, they add up to a whole, which represents the contemporary, innovative concept at Cosentino.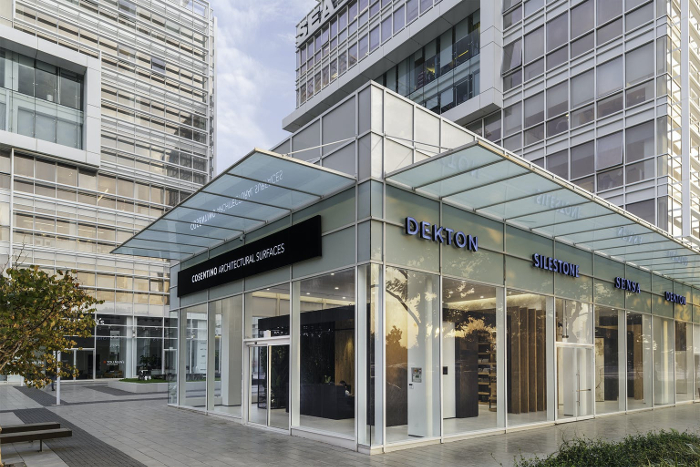 Atelier
The heart of the experience is an Atelier, which has been designed as a complete materials library, consisting of a dazzling selection of timber, fabric, handles, faucets, lighting, colors, etc. all designed to inspiration boards just as if they were in a studio of their own.
Digitalization and technology
The experience and precision also achieved through digital means such as a virtual gallery in which visitors can view the colors of the Cosentino surfaces on a large 98" digital board. Digital experience also includes a state-of-the-art 3D space which enables visualization of projects through augmented reality plus full-scale individual tailoring of the design in a large.
The products gallery will showcase examples of applications in flooring, facing, kitchens and ventilated façades including large-format rotating boards with surfaces presenting the new collection currently being launched worldwide –Silestone Loft collection– alongside Cosentino's iconic, best-selling collections.
Adir Levi
"Despite Covid-19 and the measured reopening of the economy, we decided to open the City before the end of this year. The City concept is a great step forward in the exceptional concept of a multi-purpose, dynamic and constantly changing showroom, offering architects, interior designers and private customers a comprehensive inspirational platform alongside a service and information center, where they can see, learn and experience the broad range of the Company's products", said Adir Levi, Regional Director of Cosentino Israel.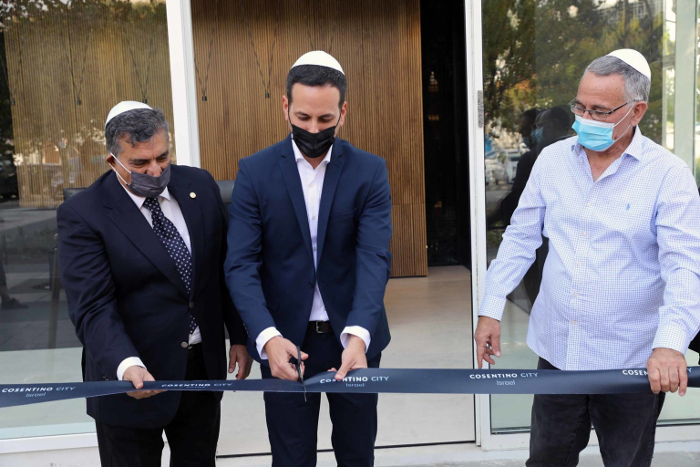 Cosentino City Amsterdam
Cosentino City Amsterdam opens in the heart of the city, opposite The Royal Concertgebouw and around the corner from the Rijksmuseum, with the slogan: "Get Inspired". The showroom covers 550 sq.m. of interior space and offers to the visitors the opportunity of comparing colours, materials and applications for architecture and design projects. It offers a comprehensive inspiration platform where architects and designers can meet and work.
The new City concept for Amsterdam has been designed by the Cosentino design team and consists of two floors with multiple spaces where the main brands Silestone, Dekton and Sensa stand out. In these rooms you can see examples of floor and façade applications, worktop inspiration, materials can be experienced live and in large format and there is room for organizing events and exhibitions.
The building consists of three buildings that have been merged into one space. The design of the interior has an industrial appearance in which the characteristic properties of the building have been used as canvas. This is underlined by the wooden beam structure on the ceiling.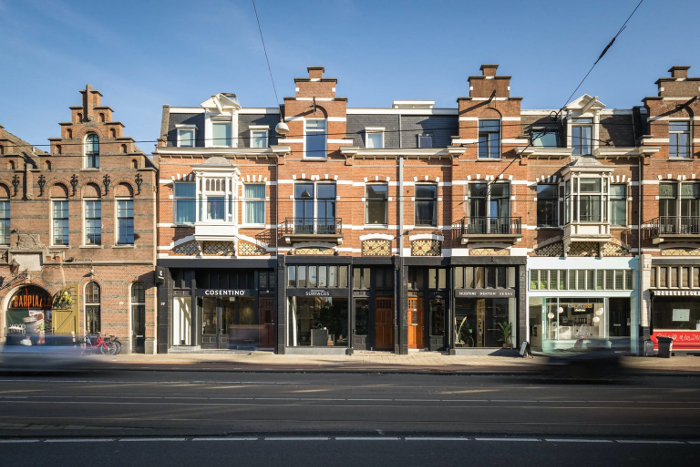 Digital Experience
Visitors to City Amsterdam can take advantage of the latest developments in digital technology. There is theDigital Experience, a space where projects can be displayed in 3D and adapted in augmented reality. There is also a life-size screen with a digital slab, where the slab material can be displayed at full size.
Atelier Lab
In the Atelier Lab, visitors are surrounded by samples, not only from Cosentino's own collection but also from other materials (wood, textiles, wallpaper, books, etc.). The Atelier lab is perfect for architects and interior designers to get inspiration for any kind of project.
In the fully equipped kitchen cooking demonstrations will be given, also companies can cook there themselves upon request. There is also a meeting room available for visiting architects and designers and various flex workstations.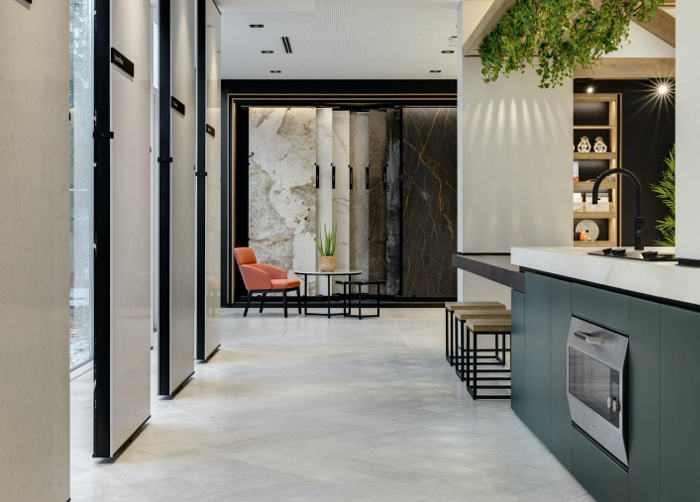 Lara Leenhouts
"In recent months, we have been working hard to transform the building into a place where leading architects and designers as well as media and consumers can get acquainted with cosentino's latest products and expertise. In the coming months, the focus will be on launchings of new colours and products, various (online) presentations are on the agenda and we will do everything we can to make our slogan: 'Get Inspired' come true", said Lara Leenhouts, Cosentino City Amsterdam manager
There are now 15 Cosentino City's worldwide in Sydney, Singapore, New York, San Francisco, Toronto, Montreal, Milan, London, Madrid, Dubai, Miami and most recently Barcelona, Tel Aviv and Amsterdam.
*For further information: https://www.cosentino.com/
24.11.2020