25 enero, 2018
Cosentino Group is currently holding its annual Cosentino 100 Convention at the Riviera Maya in Mexico, where the Spanish multinational brings together its main partners and customers from North America. This Convention is celebrating its twentieth anniversary with an all-time record number of people, companies and entities in attendance.
25.01.2018 For many years, the Convention has been not only a company meeting, but one of the most important and unmissable events in the North American stone, decoration and remodelling sector. This year, Cosentino 100 had a record number of 415 attendees, most representing the more than 180 American and Canadian manufacturing and processing companies that are Cosentino's clients.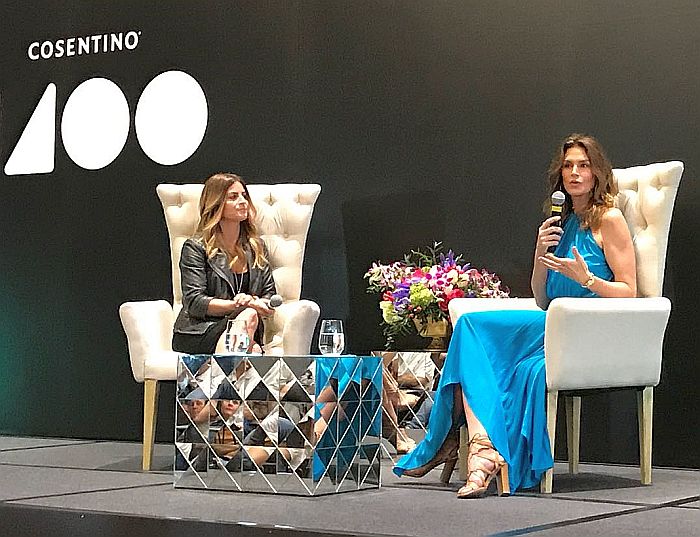 Cindy Crawford and Allison Victoria
One part of this increased status has once again been the broad and significant presence of CEOs from some of the most important sector associations in the region, such as the American Society of Interior Design (ASID), the Marble Institute of America (MIA), the National Association of the Remodelling Industry (NARI), the National Kitchen and Bath Association (NKBA) and the National Association of Home Builders (NAHB). The attendance of relevant trendsetters and prominent figures in the world of design and decoration must also be included, as is the case with the designer Daniel Germani; Alison Victoria, founder of the company Alison Victoria Interiors and a very popular face in the U.S. for her remodelling TV programme, also attended.

However, the biggest surprise and attraction this year was without a doubt the presence of the top model and entrepreneur Cindy Crawford, ambassador and image of the Silestone brand, who was in charge of officially opening the Convention. In an interesting conversation, she opened up to the attendees about her own personal experiences with design and decoration, and shared how her direct ties with Cosentino, its different materials and proposals have gone so far.
This year, the Convention, which began last Monday and ends today, Thursday 25 January, is being held under the slogan At the Top with Cosentino. With this slogan, the company wants to recognise the commitment between Cosentino and all the attendees, strengthening a bond that goes beyond a simple client relationship.
*For further information: www.cosentino.com