7 marzo, 2019
The Ikea kitchens can now become the world's most exclusive ones, with gold treated doors and 24 carat gold detailing. The collection called Guldkant is the result of a Swedish design collaboration between the kitchen company Picky Living and lottery brand Triss, which is available for order from the beginning of March.
07.03.2019 Picky Living and Swedish lottery brand Triss are initiating an exclusive design collaboration by the name Guldkant. They co-produce golden cupboard doors for Ikea's kitchen Metod and sideboard Bestå. The fronts of the doors are manufactured from gold-coloured stainless steel, while the legs and handles have been plated in genuine 24 carat gold. Gold-coloured stainless-steel plate is bent around the edges of the doors and common to both kitchen and sideboard is a black granite benchtop that balances the overall impression.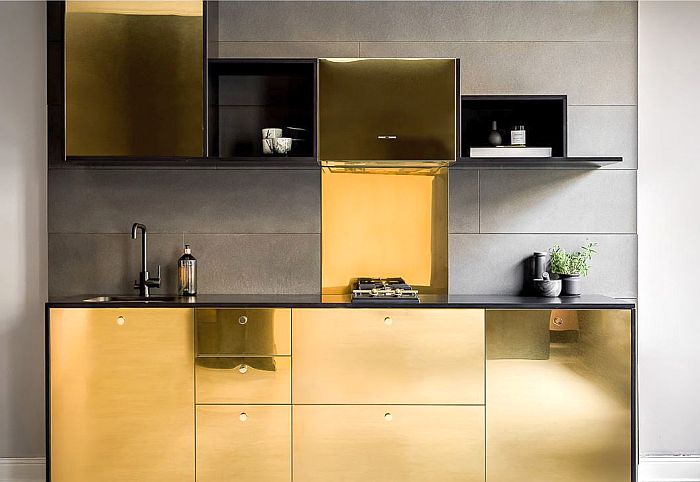 The domestic familiarity in Ikea meets extravagance in the form of genuine gold. With the design collection Guldkant, that we have initiated in collaboration with Triss, our common ambition is to create the world's most exclusive Ikea kitchen. The result reflects the ambition: cupboard fronts that stand out whilst retaining a simple stylishness, says Henrik Haij, CEO of Picky Living.
Luxury upgrade
When it suddenly happens and the lottery winning dream is realized, many Triss winners respond by saying they want to treat themselves and their home with a luxury upgrade. That's why this collaboration feels so right; together with Picky Living, we're putting a luxurious golden finish on the furniture that many Swedes already have in their homes, says Johan Svensson, Svenska Spel (Triss)PR Director Products and Brand.
A complete kitchen is now available for order in Sweden with prices starting at SEK 92,000 (Eur 8,737.49). Prices can vary depending on the size and design of the kitchen, the choice of worktop and appliances, as well as the number of gold details. A complete sideboard, 184 cm long, with gold fronts, black granite top, cover sides in black MDF, together with legs and handles is available to order for approximately SEK 25,000 (Eur 2,374.32).
* Para más información: www.ikea.com / pickyliving.se
---