8 noviembre, 2018
Accessory manufacturers will exhibit at LivingKitchen all products related to kitchens, with a large number of international exhibitors.
08.11.2018 A new kitchen is built from many different components – and only when all the products establish a synergy can a holistic kitchen concept be achieved. This is exactly the spectrum on display at LivingKitchen 2019 in Cologne. At LivingKitchen we show the whole product world of kitchens. That's why it will be so exciting for visitors: the Cologne kitchen event combines business and trend research, the addressing of new target groups and the discovery of new developments in the kitchen, says Bernd Sanden, Director LivingKitchen. And that on a high international level!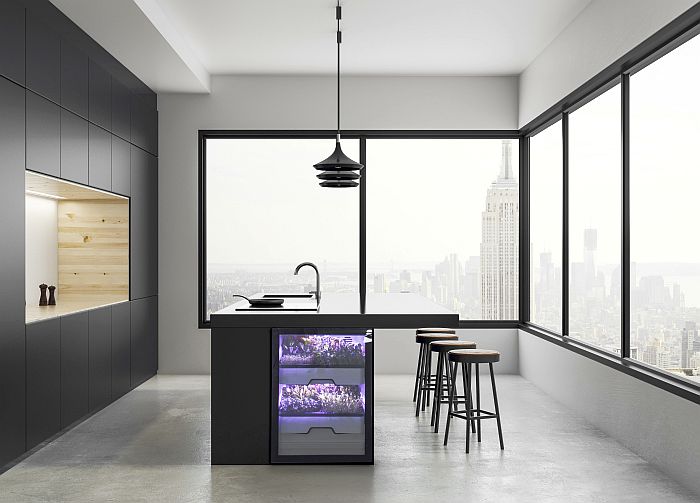 From the concrete look to natural wood: the complete spectrum of kitchen worktops at LivingKitchen
The worktop is to a kitchen what the door handle is to the architecture of a house. Two factors are hugely important in holistic kitchen design: the overall visual impression and functionality. The kitchen worktop has to cope with heat, bacteria and lots of dirt, and at the end of the day the kitchen – i.e. the worktop – must be hygienically clean again. At LivingKitchen visitors can learn all about the broad range of worktops available, with several international suppliers presenting their material innovations in this area in Cologne.
The innovations of companies such as Inalco, Laminam, Neolith, Porcelanosa, Dekker, Rossittis, Infinity Surface and Cambria from the USA prove that the kitchen worktop is now a high-tech product. When it comes to worktop surfaces and patterns, popular current trends include imitations of natural materials, for example with authentic-effect wood pattern, and the concrete look. In addition, a number of suppliers add anti-bacterial materials to their surfaces. Kitchen worktops made of solid wood – from sustainable sources, of course – are also very popular.
Ergonomic and beautiful: kitchen taps must stand the test of long-term use
Kitchen taps feature very different functions to those of the bathroom. Functionality is the priority at the kitchen sink: water at the press of a button or with an arm movement – it's vital that you can wash, rinse or fill the pan with water easily and automatically with just one hand. The tap manufacturers at LivingKitchen have come up with a number of innovative solutions for custom-designed kitchens: taps with LED-illuminated water stream (Gessi), tiltable taps in front of windows (Blanco), taps with pull-out hose and with the option of drawing boiling-hot water (Quooker). With new surface finishes, more and more colour is now being injected into tap design (e.g. Nivito, Carlo Nobili), and several tap manufacturers now offer a colourful mix-and-match of taps and accessories (e.g. Caressi).
Integrated sinks and diversity of materials
Kitchen sinks are available in a huge range of materials: from stainless steel and granite to cast mineral and ceramic. Sinks have to be food-safe, hygienic, robust and easy to clean – they are the icing on the cake in any new kitchen. Fans of minimalist design will also find what they are looking for at the Cologne trade fair: sinks made of stainless steel can be flush-mounted in the worktop to form a holistic look with the kitchen cabinets. The trend for customisation is also gaining ground in this area: with custom-manufactured worktops made of stainless steel, the sink and the worktop can be adapted to the respective space.
Freely suspended ceiling lift fans and innovative extraction systems
At LivingKitchen, visitors can discover new trends and innovations in all accessory areas. A quantum leap has been made recently in the field of extraction systems in particular. Not only do extractor fans now look more stylish and are increasingly becoming part of the architecture (e.g. Berbel), they are also being cleverly integrated into existing kitchen elements (e.g. Bora). Smart-home technology is also increasingly being introduced in the kitchen (Elica).
A number of LivingKitchen exhibitors offer several product areas, for example the Porcelanosa Group, Naber and Blanco. So diversity is pre-programmed into the trade fair offering, says Bernd Sanden, full of anticipation for LivingKitchen 2019. And many future trends are ready to go into series production, including innovative smart-home solutions. These are increasingly oriented around the consumer behaviours of the occupants, and that's why vertical farming and smart gardening – the computer-supported cultivation of herbs, lettuce and other plants (e.g. Agrilution) – are likely to be among the top trends at LivingKitchen.
* For further information: www.livingkitchen-cologne.com 
---