Titus launches TeraBlack at Sicam 2019
---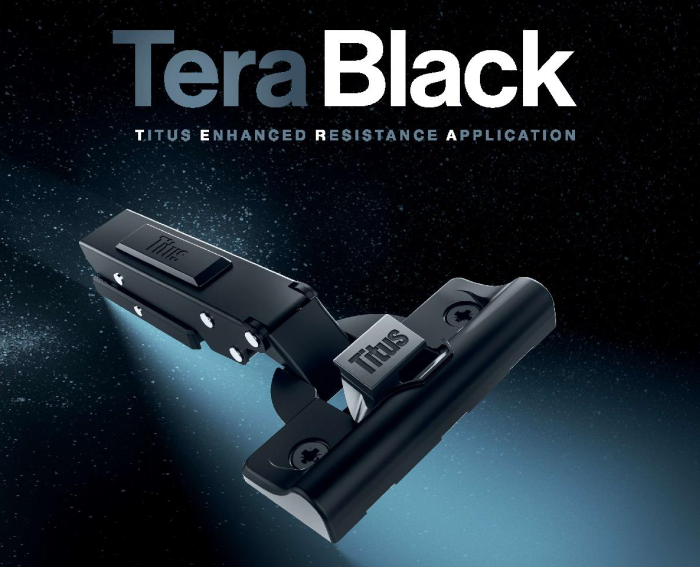 17.10.2019 With a close eye on emerging trends in the international furniture market and in response to the fast-growing demand for black cabinet hardware, cabinet hardware expert Titus has launched its TeraBlack product range. The new Tera (Titus Enhanced Resistance Application) versions, which are particularly well suited to applications in kitchen furniture, have a black non-reflective finish that is not only visually appealing but also highly resistant to corrosion. Besides new version of T-type hinge, TeraBlack now available also for other products.
TeraBlack is a very exciting step forward in the evolution of our product range, said Dean Kočevar, Product Manager at Titus. It's been specifically developed to complement and enhance all types of cabinet furniture, but we believe that it will appeal particularly to the kitchen market. TeraBlack is much more than just another colour option, it's a unique finish that's great to look at and will retain its good looks throughout the whole life of the product. These features, combined with the outstanding quality and performance that characterize all Titus products, make the new TeraBlack items an attractive option for all furniture manufacturers.
Titus TeraBlack products have highly uniform smooth surfaces with a velvet feel that emphasises their innate quality and reinforces their consumer appeal. They are dependable Titus engineered solutions supported by tightly controlled, repeatable, efficient, flexible and scalable manufacturing processes that provide the performance, consistency and quality rightly demanded by high-volume furniture producers.
Furniture manufacturers interested in seeing the attractions and benefits of the new TeraBlack products have the opportunity to do so on the Titus stand – Hall 2, stand B44/C45 – at this year's SICAM exhibition, which is being held from 15 to 18 October at Fairgrounds Fiera di Pordenone in Italy.
*For further inforamtion: www.titusplus.com