4 diciembre, 2019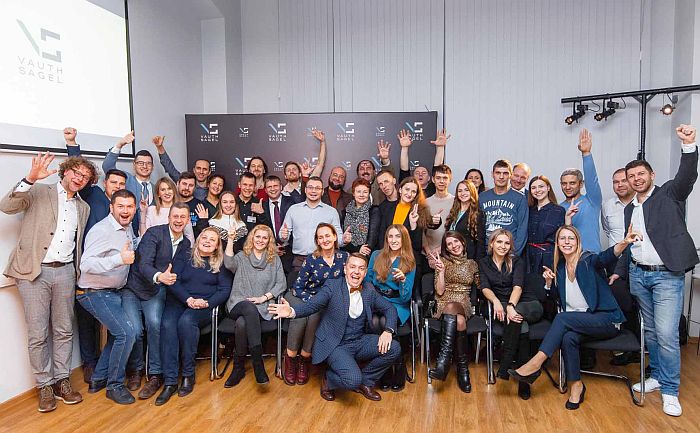 04.12.2019 As an international company, it is essential for Vauth-Sagel to understand the needs in the respective target markets. In order to exchange ideas with planners, designers and architects and to gain knowledge about the Russian market, the company organised the Design Dialogue at the furniture fair Mebel Moscow 2019 (18-22 November) for the third time in succession.
Thus, on 20th November 2019, the latest trends in the interior sector were discussed once again. For the third time, Vauth-Sagel issued invitations to a Design Dialogue and received a positive response, as in previous years. The programme of the one-day event brought planners, designers and architects to the company's showroom in Moscow. This year, the focus was once again on the trends of the present day and Vauth-Sagel's innovative product developments in response to these. The opening out of the various living areas, as one of the trends, has already defined Vauth-Sagel's appearance at Interzum. In this trade fair, solutions for bathrooms and bedrooms were also presented for the first time. In Moscow, there were lively discussions about whether and how these developments are also of interest to the Russian furniture market.
Present and future trends at Mebel Moscow
The welcome by Heinz-Otto Sagel, CEO of Vauth-Sagel, and the company presentation by Tetyana Sydorova, She is responsible within the company for the Russian market, was followed by a keynote talk by Georg Wittenbrink. His subject: Present and future trends and their influence on product development. In his talk, the Head of Product Management Living presented the perspective of the owner-run family company on the future of living. Georg Wittenbrink showed how Vauth-Sagel is responding to this development, using the example of the latest product developments such as the VS Sub Comfort, VS Elements or the VS Sub Basket.
Whilst products were at the focus of Georg Wittenbrink's talk, the event continued with the practice of product development. To meet the needs of the customers here, new methods have proven their worth in recent years. These were the subject of the creative workshop Design Thinking: here, visitors were able to outline their desired application of the VS Elements Orgabox.
The three best proposals received a certificate – and Vauth-Sagel was provided with impetus for an extension of the VS Elements product series. Due to its focus on customer benefits right from the start, always places the customer at the centre when developing new products – and thus remains true to their orientation. A buffet and a communicative finale, at which the visitors engaged in animated discussions and new networks were created, brought the third Design Dialogue successfully to a close. And it will not be the last: We are sure to be here again next year, promised Heinz-Otto Sagel.
*For further information: www.vauth-sagel.com
---