Atlantis Polished, by Arklam, in a house in the Albufera of Valencia
---
White marbles are a classic material that has become an total trend in kitchen decoration. Inspired by the Calacatta marble, the Atlantis Polished model by Arklam hoards a project carried out by Adrihosan and the Tres60 architecture studio in a house in the Albufera of Valencia (Spain).
23.05.2019 Marble floor and wall tiles have become a trend-setting decorative resource. In this context, white marbles, with their rich variety of nuances, are the protagonists of all types of spaces, both new construction and refurbishment. This is an option that occupies a preferential place in the selections of interior designers, decorators and architects and that means reinterpreting a classic to become a product of maximum actuality. And, within the range of white marbles, without a doubt, one of the most appreciated is the Calacatta marble, which is precisely the one that has inspired one of Arklam's most outstanding models: Atlantis Polished.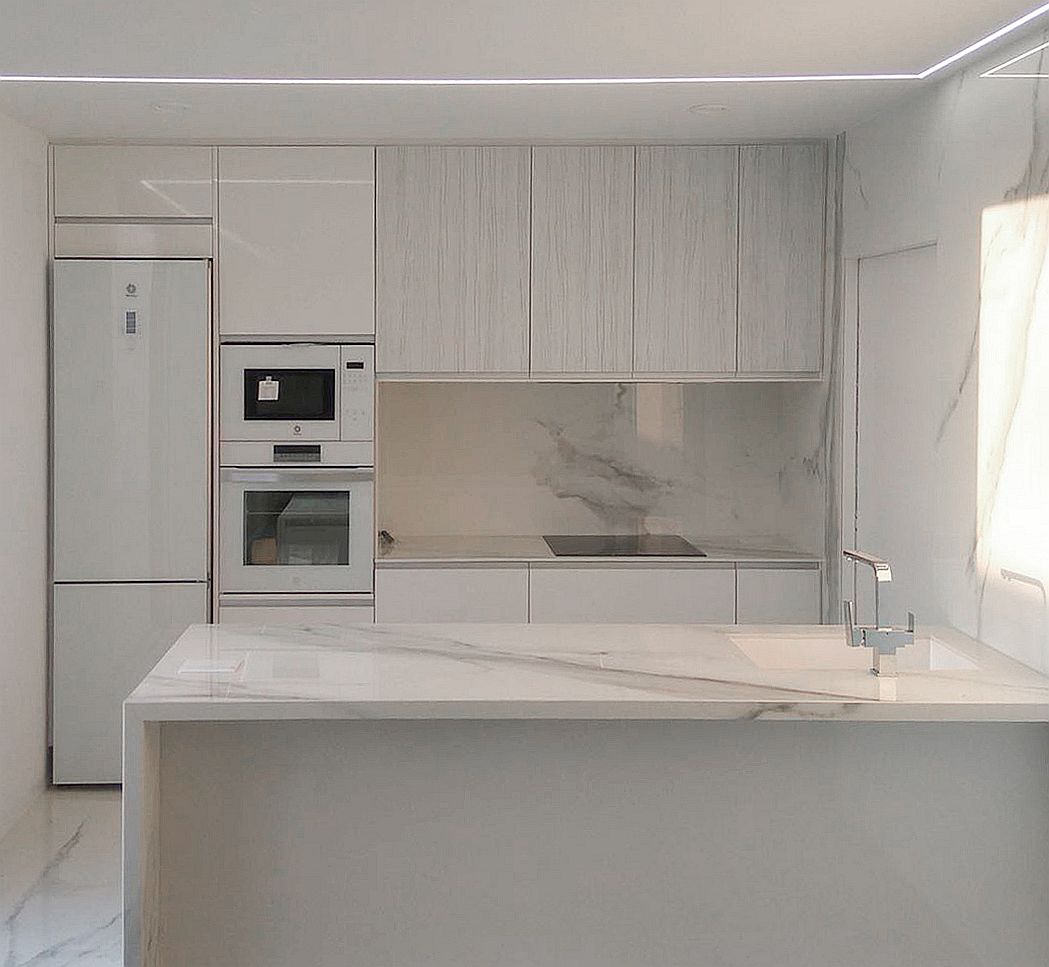 Atlantis Polished
Atlantis Polished, which stands out not only for its spectacular design, but also for its versatility to cover all types of surfaces, as is evident in one of the latest projects carried out by Adrihosan in collaboration with the design and architecture studio Tres60, consisting of the design and construction of a single-family home located in the Albufera area of Valencia (Spain).
With a thickness of 6 mm and formats 1000×3000 and 1500×2600, Atlantis Polished covers different rooms of this house of two-story house. Thus, this model of large-format sintered massis the protagonist in the living room kitchen, where it has been placed on floors and walls. In addition, the countertop has been installed in the 12 mm version, in 1500×3200 format, belonging to the Arklam Countertops range, whose properties are especially suitable for this type of surface, which requires maximum resistance and hygiene, along with easy cleaning and minimum maintenance.
Atlantis Polished has also been applied in the washing room and engine room next to the kitchen, as well as in the entrance area to the home, also covering the steps of the staircase leading to the upper floor.
*For further information: www.arklam.es