LIGNA 2019 creates fertile climate for future investment
---
The five-day LIGNA 2019 (27-31 May 2019) closed on an impressive note. The world's leading trade fair for woodworking and wood processing plant, machinery and tools gave a considerable boost to the wood industry, paving the way for future investment. Smart, futureproof solutions were at the top of the agenda.
20.06.2019 LIGNA 2019 made it amply clear that technology users are now getting smart with regard to digitization and automation. Major emphasis was placed on integrated solutions enabling companies of all sizes – from niche woodworking firms to large-scale manufacturers – to meet current market demands and prepare for future challenges. And digitization featured prominently for the primary wood industry, as well.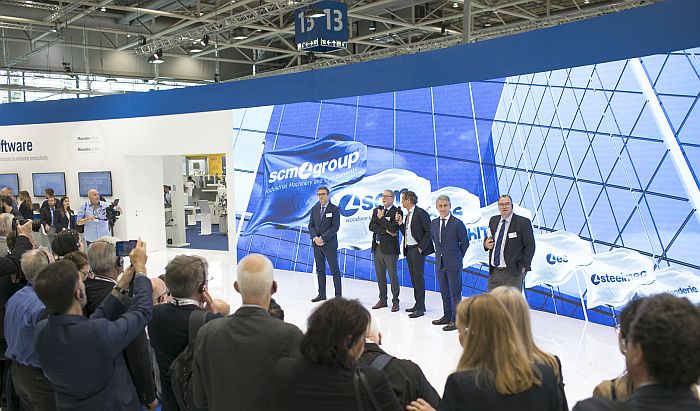 Over 50 percent of LIGNA visitors rated the importance of Industry 4.0 as being high to very high. Some 40 percent of them were either upgrading their existing machinery or considering the purchase of new machines to reap the benefits of Industry 4.0 technology.
A total of 1,500 exhibitors from 50 nations presented their impressive solutions for the future, making innovations tangible and easy to grasp for users from every sector of the industry, on a scale unrivalled throughout the world. By focusing on digitization, automation, robotics and revolutionary surface technology applications, LIGNA's exhibitors played a major role in driving technological advancement. Technologies considered to be visionary at the previous LIGNA have now become reality
More than 90,000 visitors from over 100 countries came to Hannover to check out the industry's latest advances and find exactly the right technologies and approaches to help them stay competitive and grow their businesses. Well over 40,000 trade visitors came from abroad – an indication of the show's international appeal, and an achievement unmatched by any competing tradeshow worldwide.
Trends and innovations at LIGNA 2019
Manufacturers of wood processing machinery for solid and engineered wood concentrated on automation and integrated systems, especially on modular technologies as a gateway to digitization. The approach here is one of end-to-end digitization – with concepts spanning everything from planning and design to production and monitoring – as opposed to island solutions. The other notable feature of these new digitization technologies is that they are as easy and intuitive to use as smartphones.
Meanwhile, robotics technology is increasingly becoming the norm across all areas of industrial manufacturing, from materials handing to collaborative processing by humans and machines, right through to surface finishing. The surface-finishing link in the value chain is becoming increasingly integrated into the overall production system. Automated guided vehicle systems are optimizing materials flows. And advanced central system control modules are intelligently managing the associated data and aggregating it quickly and efficiently for even the most demanding of single-batch production scenarios.
All-in-one solutions
From the cloud technologies on show, it was abundantly clear that cloud-based data management has now fully made the transition from proprietary systems to digital ecosystems. Thanks to a growing array of digital assistance solutions, the use of production data for preventive maintenance and production planning is getting more efficient all the time. At this rate, the vision – presented at this year's LIGNA – of end-to-end cloud-based material and tool management may soon be a reality.
Another vision that is getting closer and closer to becoming a reality relates to networking based on standardized communication protocols for all machines. On that score, the European Federation of Woodworking Machinery Manufacturers (EUMABOIS) and the German Engineering Federation (VDMA) used LIGNA to present a framework for a new P&W (Plug & Work) standard. The framework is a joint project by eight leading European manufacturers of woodworking machinery. Another key trend in the woodworking and wood processing industry is augmented reality – most notably the use of VR headsets and tablets to visualize work-steps and machine states.
LIGNA 2019 also presented all-in-one solutions that can efficiently bring together multiple standalone machines to create integrated process flows. The show likewise featured new developments in saw technology that deliver industrial safety benefits. These involve high-performance sensor systems for material detection – a new generation of self-learning scanner technology that represents an exciting initial implementation of AI in woodworking.
Wood-based construction
The highlights of the wood-based construction area of the show included the world premiere of a six-axis aggregate that can process work-pieces on all sides without repositioning. There was also a newly developed membrane press that can handle curved and uneven surfaces. And in the digital printing part of the LIGNA surface technology showcase, visitors witnessed a new software that can generate even extremely challenging decorative laminate layers, such as stone-look, in a single pass while maintaining an extremely high level of quality.
In the forestry technology section of this year's show the spotlight was on climate change, Forestry 4.0, digital machine integration, supply chain tracking, timber flow management, the use of VR headsets for machine control, and apps for various in-forest operations. Other key themes related to the development of forest access routes and new approaches to forest logistics.
The program also included an array of special zones and events that generated a great deal of visitor interest, among them the LIGNA.Forum, the LIGNA Campus, and, of course, the LIGNA Training Workshops for equipment users from the joinery, cabinetmaking, carpentry and assembly trades. And then there were the absolute visitor magnets, chief among them the Crane Driving Championships and the German Logging Championship.
The next LIGNA will run from 10 to 14 May 2021 in Hannover, Germany.
*For further information: www.ligna.de