7 noviembre, 2019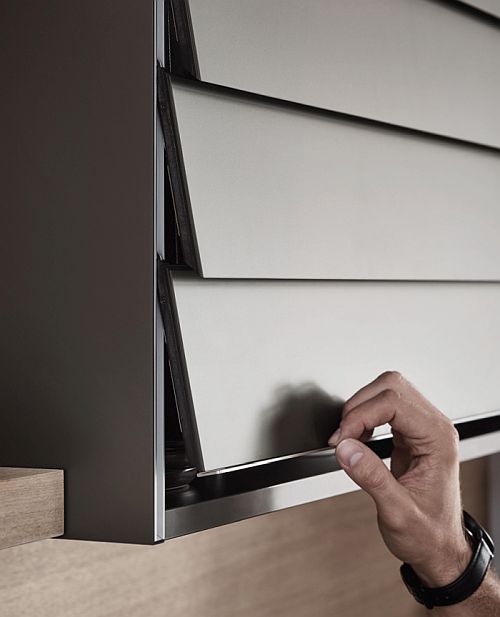 07.11.2019 In autumn every year, subsuppliers to the furniture industry present their latest developments at SICAM in Italy. Rehau at SICAM 2019 brought a particularly special innovation along to the 2019 event: FlipDoor, an innovative new interpretation of the cabinet, attracted huge interest from industry specialists during the four days of the trade fair.
A smooth surface unfolds when opening a staggered lamellar structure. The elements move upward in a light, elegant and continuous manner – without visible track elements, mechanisms or abutting faces as when opening doors or flaps. And the high-quality design of the FlipDoor cabinet system combines perfectly with the Rauvisio surfaces. The special visual feature, the tilt effect, requires very little spatial depth and this minimises the risk of impact or injury. At SICAM, the new cabinet system was showcased in a particularly special exhibit with a unique design by the Ippolito Fleitz Group. It showed, in a very distinctive way, just what makes FlipDoor a genuine alternative to conventional cabinet solutions.
FlipDoor
FlipDoor was a real eye-catcher and met with a very positive response, said Jochen Luft, Director of Marketing & Sales EMEA Industry for Furniture Solutions and manager of the Rehau stand at the SICAM trade fair. The special blend of attractive design and practical functionality impressed lots of visitors.
In addition to FlipDoor, Rehau also inspired the international furniture industry with a range of other products: design studies and material options from the Rehau surface collection, digital manufacturing processes for components, new colours and much more. The number of visitors to the Rehau fair stand also demonstrated that these were appreciated by attendees. This success of the trade fair underlined the importance of our participation. The number of discussions with international visitors increased significantly again, said Jochen Luft. FlipDoor wasn't the only big topic for our visitors – we also discussed various approaches for edge pro-cessing with our partners, in conjunction with the digitalisation options provided by #edge is digital.
SICAM has firmly established itself in the trade fair calendar for the furniture industry and reached another new peak after eleven years: more than 8,000 exhibitors over an area of 16,500 m² and visitors from 109 countries. This development is extremely gratifying for Jochen Luft: We are already looking forward to SICAM 2020. Along with Interzum in Cologne, SICAM is a key location when it comes to making new contacts and having discussions with the international industry. This helps us to see what people's actual needs are and what developments are necessary.
*For further information: www.rehau.com
---