Royal Stone Collection, by Sapienstone: the attractiveness of stone
---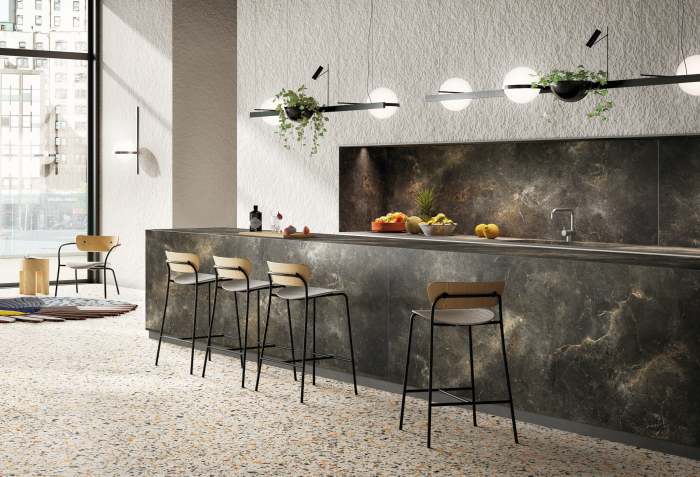 19.05.2020 The latest Royal Stone collection from SapienStone combines the solidity of stone to an attractive surface with all the advantages of porcelain tiles. The background recreates the pared-back simplicity of stone, accentuating the veining and crystallizations interspersed with lighter tones which give the surfaces a dynamic quality.

The collection features three options: Platinum White, ethereal and sophisticated with lighter white and beige tones, Palladium Grey, a minimalist go-anywhere gray and Black Diamond, bold and intense, illuminated with gold tinges.

A color palette of shades suitable for any context, domestic or otherwise, including private kitchens, restaurants or guest houses, providing an eye-catching, elegant minimalism intensified by the dynamic color.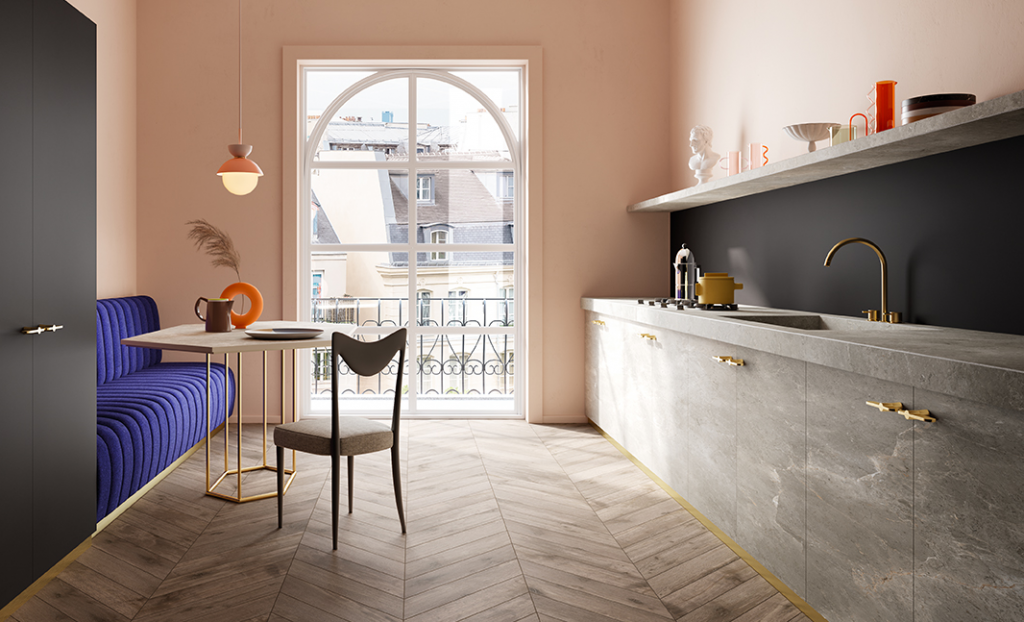 Fundamental advantages
The natural finish chosen for the Royal Stone Collection accentuates the beautiful texture, giving the surface a velvety touch. Like all SapienStone worktops, Platinum White, Palladium Grey and Black Diamond offer
fundamental advantages in the kitchen such as impact, scratch, weather and UV resistance, long-lasting durability, ease of cleaning and therefore greater hygiene.
The benefits of SapienStone
SapienStone dresses up the kitchen in a great variety of colours. It is a full-bodied porcelain imbued with veining that give its surface a more realistic look: a look that is unmatched in any other product. Its colour palette includes the most popular colours for use in today's kitchen: whites, beiges, greys and blacks.
SapienStone porcelain slabs were specifically developed to respond to the strictest requirements of the kitchen countertop, with an innate resistance to high temperatures, stains, chemical products, and scratching. It can also be used outdoors, as sunlight will not alter any of its properties. All of these features work together to ensure that your home will look refreshingly polished for years to come, thanks to SapienStone's beautiful and tough resilience.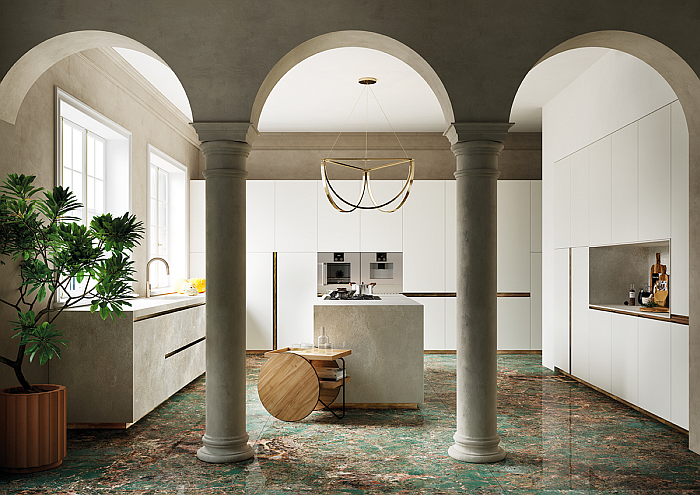 A natural, ecological product
SapienStone is made using natural clays and mineral colours which are pressed and fired to make a high- performing surface.
The product can be recycled after use, which only confirms its low environmental impact.
Furthermore, the team that developed SapienStone has two significant advantages: 50 years of experience making high-quality ceramic materials and porcelain tile, and the most advanced technology in the industry.
The company is a world leader in the production of floor and wall materials – and its goal is to become a leader in kitchens as well with the SapienStone brand.

*For further information: www.sapienstone.com