14/09/2020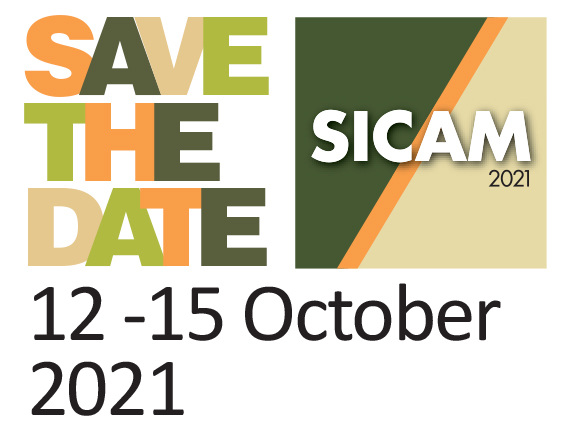 14.09.2020 The configuration of the 12th SICAM, which will be held in Pordenone from Tuesday 12th to Friday 15th October 2021, is of the highest profile. The list of exhibitors for the next edition of the fair is available on the website. The components, accessories and semi-finished products for the furniture industry that will be exhibited at SICAM confirm the high quality of the event. In this trade fair, it will be possible meeting again to create the best business opportunities, according to its organizers. So, the event remains a unique opportunity to develop ideas and projects, touching all the news of the sector.
Here you can view the exhibitors' list.
We hope to see all operators in Pordenone in October 2021 to give them the opportunity to present their products to the market to the best of their abilities. The twelfth edition of SICAM will be huge, international and full of ideas and projects, just like previous editions, in classic SICAM style and with the strong business relations that make it the most important development opportunity of the season for the industry's businesses, the organiser of the event, Carlo Giobbi, explained, on the occasion of the postponement of Sicam 2020
A long awaited trade fair
As we post in COCINA INTEGRAL, SICAM 2020, the 12th edition of the International Exhibition of Components, Accessories and Semi-finished Products for the Furniture Industry was therefore postponed to October 2021, from Tuesday 12th to Friday 15th, in the usual venue of the Pordenone Fair. The decision was taken by the SICAM organisers in light of the continuing deadlock of global trade.
According to a note published on the website of the trade fair, The Covid-19 emergency at global level has outlined an economic and social situation that has led to obvious restrictions and uncertainties. In this context SICAM has chosen to postpone the event until October 2021. The one-year shift was decided to keep the annual trade fair calendar unchanged and to provide the best possible service to the sector. Unfortunately, during these months there has been a complete absence at all legislative levels in the exhibition field in drawing up clear rules and protocols. Which in an already very complex moment makes it impossible to organize a profitable event for exhibitors and visitors.
*Another related news:
*For further information: exposicam.it