5 septiembre, 2019
Once more, for the fifth year running, Aran Cucine won the Superbrands Award 2019, international recognition which certifies the excellence and value of the companies that keep growing and investing, pursuing the authenticity, responsibility and innovation route.
05.09.2019 During the award ceremony which took place on Thursday 9 July in Auditorium Radio Italia, the company from Abruzzo also received another award. Renzo Rastelli, CEO of Aran World group – Aran Cucine's backbone – won the Superbrands Passion for Branding 2019.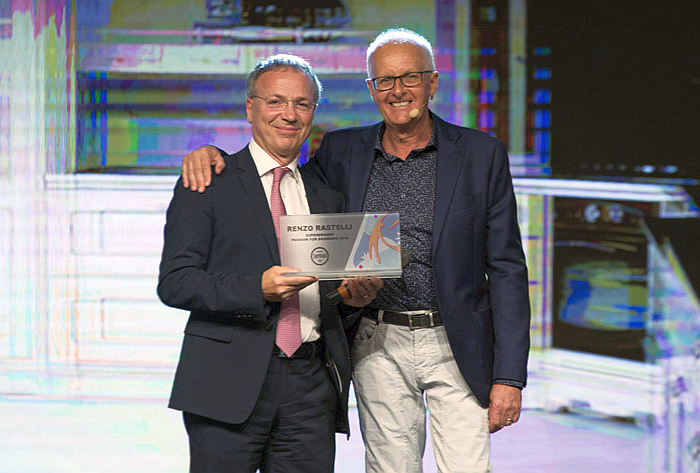 This is a significant and well-deserved gratification, which rewards the extraordinary career of a real self-made man. He was only 20 years old when he gave up his promising football career. Rastelli started working for Aran as a bookkeeper and his ambition to conquer the foreign market increased. To attempt such a feat shortly afterward he founded Newform Cucine and he realized his dream to overcome national borders. It was possible thanks to an idea simple but brilliant the 'flatpack'. The flatback is an ideal storage system which allows loading in one single container more than 40 kitchens leaving each day for different ports around the world.
American Masco Corporation
The result was that over the years his intuition became successful and in 2001 when Rastelli took a leading role in the Aran business, the American Masco Corporation, appreciating the strength of the company, bought it, appointing him as CEO of Aran World. Only in 2006 after years of economic crisis, Masco decided to transfer the ownership: in such a delicate moment, Rastelli is worried about his staff who suffered many changes and that he considers as the big Aran family. He, therefore, made a brave decision to buy himself Aran World group.
Thus, by consolidating its presence on the foreign market (just considering some projects like 432 Park Avenue or 125 Greenwich Street in New York), investing in research and development and thanks to the collaboration with leading architects and designers – Ferruccio Laviani, Karim Rashid, Makio Hasuike and Stefano Boeri – Renzo Rastelli allowed the growth of the different Aran World brands: a healthy and 100% Made in Italy reality, which is produced in seven manufacturing facilities in Abruzzo and counts on hundreds of employees and thousands of shops around the world.
*For further information: www.arancucine.it
---