8 noviembre, 2018
Emuca, a benchmark in the furniture fittings sector, presented important new products aimed at the furniture, carpentry, hardware and DIY sectors at SICAM 2018. 
08.11.2018 Emuca's range extends far beyond furniture fittings, with a stand that reflects its philosophy, distributed according to rooms, with examples of uses and functional solutions for wardrobes, homes, kitchens and bathrooms. The company presented at SICAM an extensive range of sliding door systems, such as the Flow system, ideal for doors of up to 50 kg on wardrobes and bookshop in home furniture. It is characterised by its soft and silent sliding thanks to its ball bearings and a device that provides soft and dampened closing of the door, which is very convenient to prevent slamming. For inside wardrobes and dressing rooms the new Sling folding hanger is offered.  With this new design all the mounting screws are hidden by a removable cover.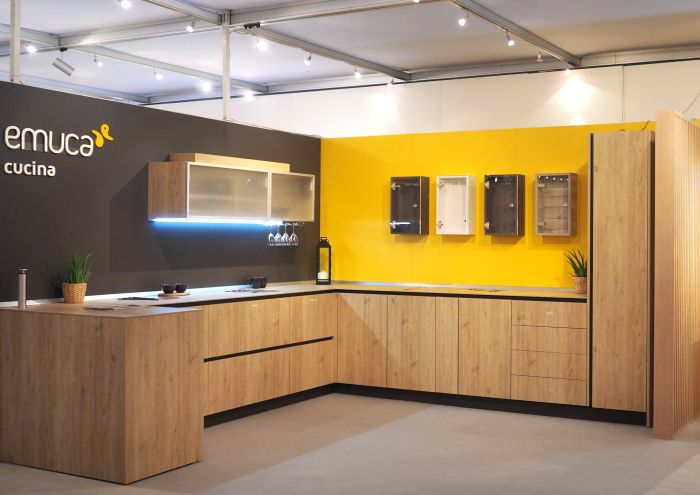 Lighting
Emuca invited the user to discover the new lighting products with the presentation of great innovative solutions like the range of Lynx LED strips with new connectors. Two lines with different features was presented: Premium, for more demanding customers and Basic to satisfy basic needs while maintaining quality. The new Cástor AND Pólux lights were also exhibited. Created to light up the inside of wardrobes and dressing rooms with an innovative LED lighting system built into the hanger hanging bar, both have a square design with a built-in movement sensor. The Castor light also has a rechargeable battery via a Micro USB connection.
Following the trends of the furniture sector, new products have also been developed for integration into the furniture and to satisfy the needs of users such as the new Atom multiconnectors. Its innovative design in an aluminium or black painted finish enables its complete embedded integration in office and home furniture.
Emuca seized the opportunity to present the Concept drawer with a straight and slimline design that is ideal for all home furniture. It is available in a white satin or anthracite grey finish with different drawer heights and depths. It stands out for its soft and silent sliding thanks to its total extraction synchronised runners that are hidden inside the side of the drawer, and it have a damper piston on both runners, which provides soft closing of the drawer and dampened extraction buffer.
Kitchen fittings
New additions to kitchen fittings were on display, such as the new Titane system. Its Titane corner unit stands out, it is designed to optimise the space of rectangular-shaped corner units. And the new Titane extractable auxiliary basket is ideal for bottom units in small spaces or auxiliary kitchen furniture. Both storage systems have a soft-closing system in order to avoid slamming doors and come in an anthracite grey colour that is very fashionable for furniture at present.
Other new addition was the Agile system designed for lifting doors located on kitchen and home furniture, with soft and precise functioning, without the need for hinges. It has great opening of the door in order to fully maximise space and facilitate access to the furniture. Its greatest benefit is that it makes it possible to adjust the strength of the mechanism, in order to be able to leave the door open in any position.
Emuca continues to commit to digitalization with its recently updated App with new assembly and installation videos, with the search feature for assembly instructions or product data sheets. It also has a QR codes reader and a bar code reader for Emuca packaging in order to quickly access all the information about the product. Also, with the QR codes you can have direct links to the product videos through the catalogues.
*For further information: www.emuca.com
---