Neolith summarizes 2019 furniture trends
---
Neolith have a regular presence at design festivals across the world, keeping a sharp lookout for the latest trends.
06.06.2019 Furniture trends are constantly evolving, in line with wider interior design tastes and preferences. Particularly, the choice of materials available for application is greater than ever before. The following are the latest trends in furniture and surfaces, according to Neolith.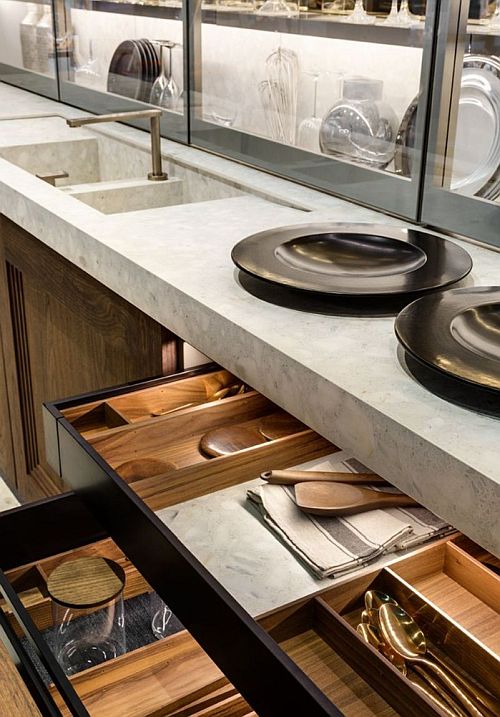 Pump up the volume
Where grey tones have dominated in 2017/2018, a gradual return to more vibrant palettes has been observed. Brighter hues are being specified for distinctive and ultra-modern interiors.
Knock on wood
The organic look and feel of unpolished wood has timeless appeal, in contemporary kitchens, it can be combined with contrasting materials, such as Beton or Corten, offering a captivating juxtaposition of the natural and industrial.
Dramatic effects
Intimate interiors, full of dark hues and moody tones, are witnessing a revival. When emphasised with pools of warm lighting, casting sultry shadows across a room, these shades evoke a refined environment perfect for relaxation.

Mixed materials
Creating contrast is nothing new in design terms, but scope and ambition have become greater as the amount of available colours, patterns and finishes have increased. New technology is driving this change. A greater degree of mimicry in engineered and Sintered Stone means hyper-realism in design with high performance properties.

Can't beat concrete
Concrete evokes a minimalist aesthetic and is growing in popularity for kitchen islands, worktops and dining room tables. Combined with wood, concrete effect surfaces deliver a fashionable atelier-chic, much prized in metropolitan areas across Europe.
* For further information: www.neolith.com