24 mayo, 2018
All Homag edge banding machines were displayed in Hall 3 with a new, modern machine design and a new name: EdgeTeq.
24.05.2018 Homag presented at Xylexpo (8-12 May) an innovative system concept for processing batch size 1 and small series in furniture production. The EdgeTeq S-810 edge banding machine with automated return was a winner with an optimally aligned all-round solution: for edge processing, the EdgeTeq S-810 is highly flexible thanks to edge gluing with automatic change between laser and PU. During operation, the cell can be used as a separate island or can be integrated in an automatic material flow. The cell includes a feed that supplies the machine from stacks. To increase performance, workpieces can also be handled in pairs. The machine operator can feed in and remove small parts manually.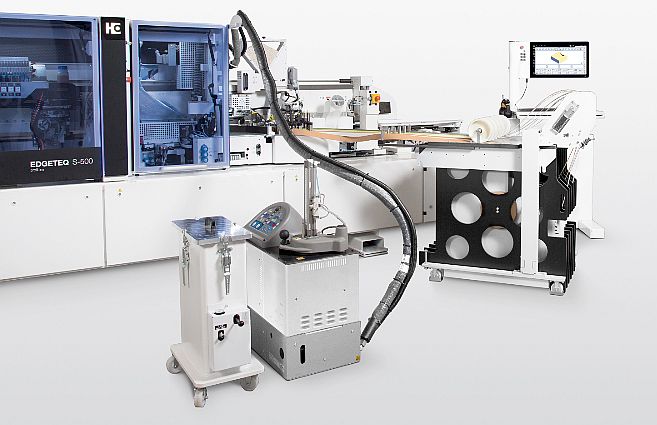 intelliGuide operator assistance system
What started with the intelliGuide intelligent operator assistance system for panel dividing technology has now been adapted by Homag for edge banding machines.
On panel dividing saws, the operator assistance system reacts intelligently to the actions of the saw operator. For example, intelliGuide flexibly changes the cutting sequence if the user feeds a different part into the saw than the one intended.
Where the operator assistance system is used on edge banding machines, two LED strips in the area of the workpiece infeed clearly show what the operator should do. This is achieved by the workpiece dimensions being displayed on the LED strips. The strips light up in different colors, thereby providing specific handling instructions.
EdgeTeq S-380 profiLine
At Xylexpo, Homag demonstrated its full-flexibility offering for individual interior fittings in the form of the EdgeTeq S-380 profiLine. This system gives SMEs the ability to respond extremely flexibly to the requirements of their end customers. The first special feature is demonstrated as soon as the workpiece is inserted — there is an air cushion table that makes it easier to insert large or heavy workpieces. A belt-type top roll pressure is used for workpiece transport. This clamps the workpieces and is ideal for transporting high-gloss and sensitive surfaces.
In the magazine, the user has the choice between glue application with a gluing roller and the airTec procedure for manufacturing the zero joint. Even those who manufacture furniture for bathrooms, kitchens and laboratories will find a handy solution in this system: The machine is fitted with a PUR pre-melting unit that uses 2-kg cartridges.
The EdgeTeq S-380 profiLine is highly automated, a feature that is particularly apparent in the post-processing units. The trimmer, contour trimmer and scraper can be adjusted simply by touch. This minimizes machine set-up times and supports easy reproducibility, guaranteeing reliable quality at a consistently high level. The post-processing units also feature multi-tools that allow you to choose between two different radii simply by touch. No need to open the hood, no replacing the changing heads, and therefore no interruption of work.
High-tech edges: Flexibility3 with integrated workpiece handling
The EdgeTeq S-500 profiLine can be fitted with any options, is efficient and can be used with all types of material. The edge banding machine presented new possibilities at the Xylexpo trade fair: Flexibility³.
For those who need to change their edge-banding process—PUR, EVA or airTec zero joint technology—at frequent intervals due to the diversity of their product range, all three edge banding processes can now be performed using a single machine. In addition to the airTec unit, the machine is also equipped with two pre-melting units for PUR and EVA. This means that inexpensive EVA can be used on numerous body components, while PUR can be used where there is a requirement for resistance to temperature or moisture. The airTec zero joint process comes to the fore when appearance is particularly important — for example, when producing front pieces. Automatic switching between processes, without the need for manual intervention, saves both time and money.
3-profile technology on the EdgeTeq S-500 models
This new 3-profile technology is the ideal solution for anyone looking for ways to increase their productivity. It changes quickly and automatically between three profiles and 20° chamfer with high repeat accuracy. The 3-profile technology package includes a fine-milling unit (MF21) for three radii, 3-profile head for profile trimming unit FK30 and a profile scraper (MN21) for more than three radii. In the standard version, the following radii will be supplied: R1 = 1.0 mm, R2 = 1.5 mm and R3 = 2 mm.
The EdgeTeq S-500 profiLine features equipment for solid wood and high-gloss processing, as well as for processing parts with hinge holes (nesting package). It works at feed speeds of 16–25 m/min. The fully automatic flow of parts on display at Xylexpo is made possible by the workpiece return LoopTeq O-600. Networking functionality is provided by the woodFlex cell control system. So that the edge banding machine can process each workpiece correctly, each part is given a digital identity (barcode) beforehand.
*For further information: www.homag.com/es
---