10 enero, 2019
With 926 products submitted from 69 nations, sustainability concepts and subtle colour schemes dominate in Pure Talents Contest 2019. LivingKitchen Selection celebrates its debut.
10.01.2019 Where can you find tiles made of paper and tabletops manufactured from waste timber, high-quality woollen fabrics for the mass market and lamps with non-toxic salt batteries? At the Interior Business Event, Imm Cologne, that's where – right next to the latest chairs, the most original furniture for storage spaces, folding lounge chairs and centrally arranged kitchen modules. Young designers are thinking about sustainability, interactivity and cross-generational design for both young and older people – that is the positive summary of the 16th edition of the Pure Talents Contest.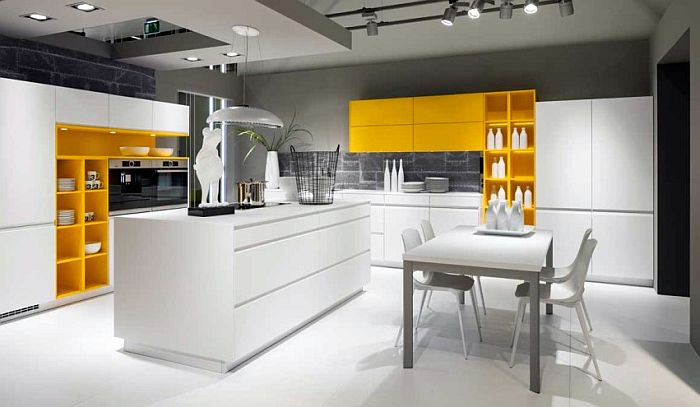 The jury
The high-profile panel members for the Pure Talents Contest 2019 jury came together in Cologne in October to view the 926 products submitted from 69 nations. Only 27 have made it through to the exhibition, which will attract many designers and design enthusiasts during the Interior Business Event, Imm Cologne. This year's jury is made up of designer Rianne Makkink (Studio Makkink & Bey) from Rotterdam, Suvi Saloniemi, Chief Curator of Helsinki Design Museum, designers Sebastian Herkner from Offenbach and Cristian Zuzunaga from Barcelona as well as design journalist Johannes Hünig (editor of IDEAT magazine) from Hamburg and Wilfried Lembert, Managing Director of Minimum Einrichten GmbH, Berlin.
The competition, promoted and organised by Koelnmesse, is specifically aimed at designers who are still studying or have recently completed their education. It is one of the most prestigious international contests for young design, as highlighted by the further increase in submissions (up by 11%) and its international character (last year's event: 53 countries represented). In 2018, the participants once again included many students and recent graduates from distinguished design schools such as Aalto University Helsinki, the Bezalel Academy of Arts and Design in Jerusalem, Eindhoven's Design Academy, École Cantonale d'Art de Lausanne, the Elisava Barcelona School of Design and Engineering, Kassel College of Fine Arts (KHK), New York's Pratt Institute, the Rhode Island School of Design, the Royal College of Art in London and the Royal Danish Academy of Fine Arts in Copenhagen.
Broad spectrum
Jury's selection acknowledges the sustainability concepts of many designs and the combination of familiar and new, as yet unconsidered materials. The 27 nominated designs represent the product areas of furniture, flooring, wallpapering and textiles, lighting, smart home, household accessories and kitchens. Jury was struck by the many international entries.
The broad spectrum of functions, materials and different approaches seen in the chosen designs is astonishing. This diversity ranges from a series of 21 prototypes designed as a study on sitting to a tambour credenza, the design of which is inspired by textile dyeing techniques, a piece of bubble-like architectural furniture that creates a private area within a public space and a traditional-style chair that reinterprets the flowing forms of the 1960s through to a lounge chair that looks almost clunky and radiates a bold industrial look thanks to its undisguised combination of steel tubing and heavily screwed wooden planks.
Pure Talents Contest exhibition in Hall 3.1
In the flooring, wallpapering and textiles product segment, the jury's nominations include a materials study that combines used paper with porcelain to create sound-insulating tiles as well as a new, non-woven material made of sheep's wool and intended to be processed in combination with substrates like jute. The latter product is not only suitable for applications in the clothing industry but also lends itself to use in the interiors sector thanks to its sound-absorbent properties.
Twenty-one of the chosen designs will be on show at Imm Cologne in the renowned Pure Talents Contest exhibition in Hall 3.1. For the nominated designers, the presentation of their creations at imm cologne is the ideal platform from which to launch a successful career. This year's Pure Talents Contest reflects the fact that the new generation of designers is deeply engaged with issues relating to the use of resources and materials recycling.
LivingKitchen Selection
In view of LivingKitchen taking place alongside Imm Cologne, kitchen products will be curated as a stand-alone competition segment for the first time. For the LivingKitchen Selection of the Pure Talents Contest, six products have been nominated from amongst kitchen accessories, kitchen appliances and kitchen concepts. A separate prize will be awarded for the LivingKitchen Selection, meaning that the Pure Talents Contest will offer a total of four prizes this year. The self-contained presentation FutureDesign is another new addition to the LivingKitchen event. Here, the designs will be on show in Hall 4.2 right alongside the FutureKitchen installation by star designer Alfredo Häberli.
The selected entries will feature a mobile outdoor kitchen, a modular kitchen intended to be built in the centre of the room to allow for greater communication and flexibility, a laboratory-like compact kitchen accommodating all work processes in a seamless design, a range of dishwashing brushes made of an alternative material, a portable cooker hood intended for use as an extractor for small kitchens and an ergonomic kitchen knife in a universal design for cutting while seated.
With the addition of the prize for the LivingKitchen Selection, the jury for this year's Pure Talents Contest will be presenting a total of four awards to the best competition entries. The winners will only be chosen by the jury on the first day of the trade fair. The names of those taking home prizes will be announced in an awards ceremony at the event forum The Stage (Hall 3.1) at 2 p.m. on Monday, 14 January 2019.
* For further information: www.livingkitchen-cologne.com / www.imm-cologne.com
---