17/02/2021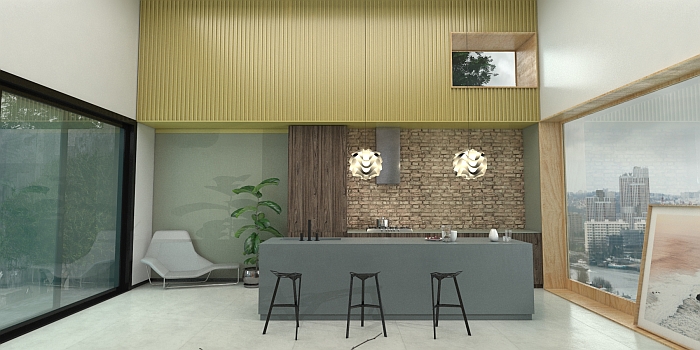 Cosentino participated at KBIS 2021 fair, hold in a virtual edition for first time 9-12th February.
Cosentino showed a sneak preview of the new designs, colours, applications and technology that will be available in the coming weeks for Silestone, Dekton and Sensa by Cosentino.
Novelties al Kbis 2021: Silestone
A new collection of Silestone colours is currently in development and will be launched soon, representing a return to the origins of the brand and the company. The central themes of this new collection will be the Mediterranean, contact with nature and, above all, colour.
This series brings with it a fresh new look for Silestone, thanks in the main to the exclusive and pioneering HybriQ+ technology used in its production and first launched in October 2020. HybriQ+ involves a sustainable production process and a composition that uses a hybrid formula from mineral and reused raw materials, which also reduces the use of crystalline silica. Silestone® is moving towards a much more sustainable present and future, thus demonstrating its firm commitment to the circular economy and sustainable management.
Following its successful launch in 2020, the Silestone Loft series made its debut at KBIS 2021. Its five industrial inspired colours, Camden, Poblenou, Seaport, Nolita and Corktown, capture the essence of five iconic neighbourhoods with a distinctive urban and industrial look. Silestone Loft therefore became the first colour series to incorporate the HybriQ+ technology.
Dekton
In the coming months, new colours featuring rich, deep textures that pay homage to craftsmanship will be launched for the ultra-compact Dekton surface. Cosentino reinterprets the versatility, beauty and honesty of the work of master craftsmen through the technological and innovative approach of Dekton, providing strength, durability and large format pieces.
This new series joins the carbon neutrality achieved for the entire life cycle of Dekton (from cradle to grave), covering Scopes 1, 2 and 3, from the extraction of the raw material, to the use of the product and the end of its life.
Sensa by Cosentino
The natural stone Sensa by Cosentino, with special anti-stain protection, was also present at KBIS 2021, featuring new designs in quartzite and granite for the North American market. Sensa by Cosentino is an easy-to-maintain surface suitable for indoor and outdoor applications. The Sensa range by Cosentino was developed in Cosentino Latina, a subsidiary of the company located in the Brazilian city of Vitória; which is also one of the main exporters of natural stone in Brazil.
Virtual talks
Cosentino was holding a series of virtual talks, such as "CEO Talks: behind the brand", featuring Bill Darcy, CEO of NKBA; Eduardo Cosentino, Vice President of Global Sales and CEO of Cosentino North America; and Patty Dominguez, Vice President of the Architecture & Design channel of Cosentino North America.
On the other hand, John McCalin moderated the talk "The rise of outdoor kitchens: profit from the outside"; featuring Matt Herbert, founder and General Manager of Sherwood Outdoor Kitchens; and Young Huh of Young Huh Interior Design.
*For further information: www.cosentino.com
17.02.2021