22 febrero, 2018
Ernestomeda contributes a classroom and the Obliqua kitchen to the Eataly point of sale in Sweden, which officially opened to the public in Stockholm on 17 February.
22.02.2018 Ernestomeda is a key player at the first Eataly point of sale in Sweden, which opened to the public on Saturday 17 February at Biblioteksgatan 5, the historic location of the Red Kvarns cinema in  Stockholm. This continues the partnership between Ernestomeda and Oscar Farinetti's brand, which began last year with Ernestomeda's participation at FICO Eataly World, the globe's largest food park, opened in Bologna in November. Eataly Stockholm will bring with it all the Slow Food philosophy and all the genuine goodness of foods and wines from the Italian tradition, with a particular focus on quality of raw materials and sustainable production methods.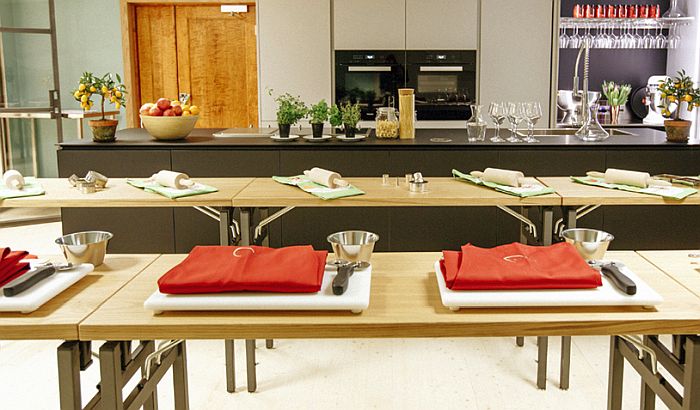 The new Swedish location occupies more than 3,000 sq. m on two floors and offers the Scandinavian country the distinctive Eataly format: a store, restaurants and educational activities, enhanced by a retail offering of top quality products. The point of sale will focus clearly on sourcing the best Italian products and telling the unique stories of their producers: the restaurants will offer authentic Italian food experiences on a daily basis, while the Eataly School will give the opportunity to learn the secrets of Italian cuisine.
Obliqua kitchen
Against the backdrop of the Swedish location, Ernestomeda operates a classroom containing the Obliqua model: a kitchen with a well balanced yet strongly characterful image, named after the special oblique angle of the doors and worktops.
Obliqua's design is simple and elegant, a combination of basic volumes, textures, materials and finely crafted details, all reflected in a continuity of colour, with use of a single finish for the worktops, groove strips, doors and plinths.
In the composition specially created for Eataly in Stockholm, Obliqua features Ephesus Grey Fenix lacquered tall units, groove strips and plinths, with Ingo Black Fenix lacquered groove strips, plinths and worktops on the island.
We are delighted to continue our partnership with Eataly even beyond Italy's borders, states Ernestomeda CEO Alberto Scavolini. The Stockholm opening is definitely another step forward in the worldwide promotion of Italian excellence.
* For further information: www.ernestomeda.it
---