10 julio, 2020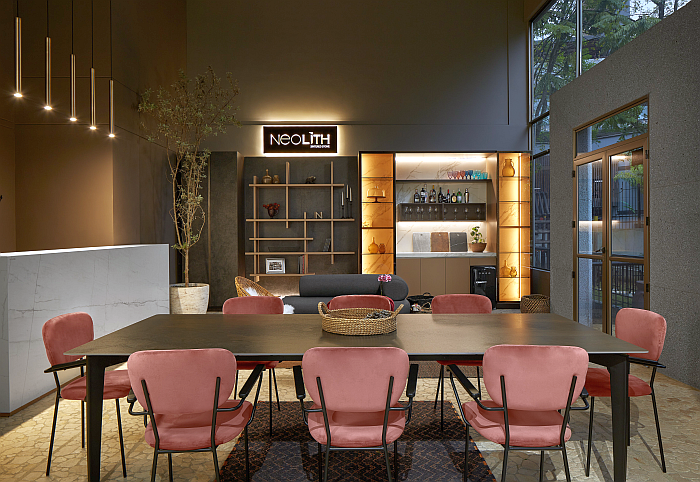 10.07.2020 The global pioneering brand of sintered stone announces the launch of its new Neolith Urban Boutique Medellín, Colombia (NUB). In collaboration with long-term Colombian distributing partner Vianova Stone Gallery, this special showroom has been entirely dedicated to the brand's unique material.
100% Neolith
This original concept comes from renowned architect Eduardo Munera (ERA Architects) and interior designer Diana Guerrero. NUB Medellín pays tribute to Colombia's vibrant, modern and forward-thinking design community. It also showcases the unrivalled aesthetic and performance qualities of Neolith. One of the highlights is the stone's seamless ability to fit within any interior or exterior surfacing specification.
South America is one of our fastest-growing territories, with a particular appetite for Neolith's surfaces growing in Colombia. Medellín is home to a young, dynamic design community who are passionate about using the best, most sustainable materials available. NUB Medellín gives us a chance to directly engage with them, showcasing a wide range of solutions to help them achieve even the most ambitious ideas and deliver to highly specific briefs, Mar Esteve Cortés, Neolith CMO, says.
Imagine That
The idea for NUB Medellin's interiors was developed according to a strict set of instructions from Neolith and Vianova. Together, they wanted it to look beyond the standard showroom format, creating an immersive, experiential space in which Neolith would take centre stage.
They wanted to fire visitors' imaginations, foster creativity and encourage originality. To accomplish this, the design had to be as non-prescriptive as possible. This meant simulating traditional setting such as kitchens, bathrooms and even exterior cladding was forbidden, presenting a welcome challenge to Munera and Guerrero.
We'd wanted to incorporate an immersive, gallery-like display within our premises for some time. Importantly, it had to be a space in which art, architecture and design could combine to emphasise the finesse of Neolith's many different patterns. Essentially, the slabs would be showcased as if they were works of art at an exhibition. This is why we have curated Neolith slabs as you would a series of sculptures, with guided lighting to emphasise every detail, from the vivid veins and tactile textures to the contrasting colors. We believe this will inspire our customers to envisage incredible designs for their projects. Whatever the brief, added Santiago Escobar, General Manager at Vianova.
Material Masterpieces
So, central to NUB Medellin is a breath-taking gallery of full-size Neolith slabs, standing vertically and positioned at parallel angles to each other. The gallery features some of the brand's most popular colours, including the award-winning Mar del Plata, Zaha Stone, Retrostone and Calacatta Gold. With aesthetic genius, this installation highlights the great variety within the Neolith range.
Further applications include a reception desk wrapped in Mont Blanc. This subtly veined pattern pays homage to the white quartzite found in the European Alps and the Franco-Swiss Jura appellation. A table specified with a Sofia Cuprum top also demonstrates how Neolith's innovative design technology can achieve complex looks including patinated metals.
Universal Appeal
Offering a holistic experience to visitors, each aspect of NUB Medellin has been carefully considered. From strategically placed lighting to luxurious soft furnishings, the creators have built a welcoming space which encourages contemplation. A range of verdant plants have also been positioned across the space. The flora emphasises the organic credentials of Neolith's sintered stone and its commitment to sustainable manufacturing and design.

*For further information: www.neolith.com/es
---