22 mayo, 2020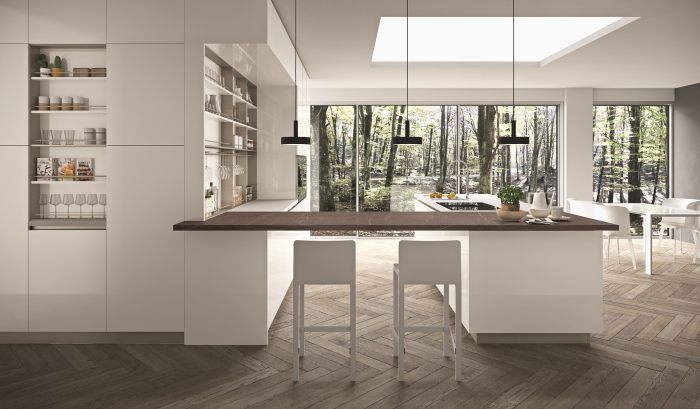 05.22.2020 The R1 kitchen is a Rastelli proposal signed by Ulisse Narcisi. This is a designer who considers the kitchen as a place to take refuge from everyday chaos. Thus, R1 is a system to create always different compositions. It has a wide range of modules, accessories, colors and finishes. In this way, each project can be infinitely customizable, with special attention to the continuity between the kitchen area and the living area, essential in open spaces.
The composition with Forma doors, lacquered in bianco brillo, is one of the examples of the wide design possibilities of R1. The kitchen is shaped to create a kind of oasis within the living area. To make the most of the space, the wall unit, creating a corner, is articulated through a set of floor-ceiling columns. These are made up of container modules, overhead furniture, and Galileo, embedded in the wall or installed in the space between furniture (low and high).
Clean composition
The cleanliness of the composition is underlined by the minimalist design and the rigorous geometries, and the white of the doors, the touches of titanium on the skirting boards, and Galileo make it extremely bright. Precisely this last element, light, funny and functional due to its storage capacity, offers a refined aesthetic solution to organize accessories and utensils and always have them at hand.
The central island is dedicated to the cooking and washing area. Connects to the counter by a snack table in HPL Navajo Gold, ideal for breakfast or as an additional workplace. And consistent with the essential style of the kitchen, the living containers complete a perfect composition for an open space and united the living room, characterized by design and elegance.
Thus, due to the projective capacity of R1 and Rastelli, the kitchen becomes the nerve center of home life. It reflects changes in society and in the use of living space. Therefore, it must be constructed, as Ulisse Narcisi suggests, according to individuality.
*For further information: www.rastellicucine.it
---