21 septiembre, 2017
Titus Group exhibited its latest cabinet hardware innovations at FURNICA Poznań 2017, Poland, 12-15 September.

21.09.2017 T-type, Titus' new generation hinge, enables time-savings at cabinet assembly with 3Way snap-on mounting and assures a life-long consistent performance on a wide range of kitchen, bedroom and other doors. Its rigid design ensures reliable operation over a wide range of tolerances, even in the case of accidental misalignment and inaccurate drillings.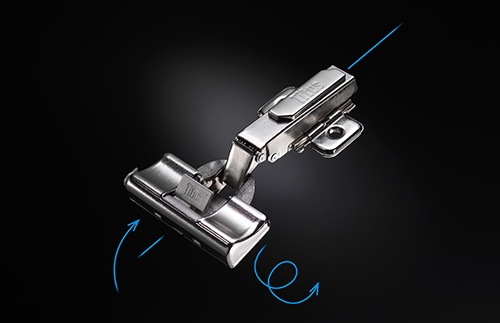 The 3Way snap-on mounting plate allows for an intuitive hinge-to-plate mounting in three directions, which enhances and simplifies the mounting experience and enables easy door installation even in tall cabinets where 4-5 hinges per door are required. An easily accessible adjustment button provides intuitive adjustment of the damping action which gives an efficient soft closing performance on doors of different dimensions and weights. The T-type Glissando soft closing action is tuned to Titus ConfidentClose. The door closes fast; the deceleration action begins at a late point of door closing action and the closing is especially slow and soft in the last stage when the door leans against the cabinet side.
Tekform drawer range enlarged with slimline version
To adapt the offering to the demanding high end kitchen and bathroom market, Titus enlarged the Tekform drawer, family of double wall drawers, with Tekform slimline drawer featuring sleek look with 14mm side panels for an efficient utilisation of the drawer space.
Tekform slimline drawer uses same drilling patterns for runners as the 1st generation of Tekform drawers enabeling easy drawer interchangeability and flexibility in use. The new addition is available in various attractive finishes that perfectly match the contemporary design of the furniture.
High performance Quickfit TL5 Full Metal Jacket
Quickfit TL5 Full Metal Jacket is a high-performance dowel with greater resistance to dowel pull-out, providing optimal strength and efficient performance in MDF, chipboard and solid wood, without the use of wooden dowels.
An expanding steel sleeve assures a reliable engagement in the dowel hole of 5mm which enables the usage of the tool-less Quickfit dowel insertion technology across a wide range of applications in RTA furniture. Its self-adjustment feature provides an edge-to-hole-centre tolerance of +/-1mm which helps to overcome drilling inaccuracies.
Cam5000 – a high strength and smooth closing for Confidence in use
A wealth of experience and findings from four decades of designing and providing cam & dowel solutions to key producers of RTA furniture have been merged into a new Cam5000. The new cam is characterised by a superior strength and a smooth and reliable locking action for greater Confidence in use with Titus screw-in and Quickfit dowels.
A strong cam design with reinforced engagement in the hole prevents from cam tilting and bursting which increases resistance and allows for an effective performance in wider tolerances range. A linear profile optimises the torque and enables a reliable and comfortable locking with a noticeable stop at 2 o'clock. Cam5000 retains all the features of Titus cam family, developed through years and proven to assure a comfortable user experience and improved furniture quality: cam retaining pips, 2 o'clock lock, drop-on feature and klix.
Titusonic
Titusonic is based on the WoodWelding fastening process and uses the ultrasound to bond rigid cabinets and honeycomb boards without use of adhesives. The Titusonic Sonic Rivet replaces the commonly used wooden dowel and glue in the construction of cabinets and other furniture products. With rising demand for hollow core board (HCB) in furniture, the Titusonic process presents a cost effective solution to attach fittings to frameless honeycomb boards. Providing a strong and immediate joint, the Titusonic ultrasonic welder firmly attaches the plastic insert to a hollow core board within one second providing a firm base into which to fix the connectors.
Damping in House-hold Appliances
To improve consumer experience in use of house-hold appliances with a damping feature, designers face the challenge of small space available for dampers, high loads and efficient life-long performance at repeated cycles in temperature fluctuations.
Titus hydraulic technology responds to those challenges with compact design, ability to perform consistently in temperature range of 0°C to +150 ºC without degradation and possibility to fine tune the damping force, stroke and characteristics.
* For further information: www.titusplus.com
---