01/07/2020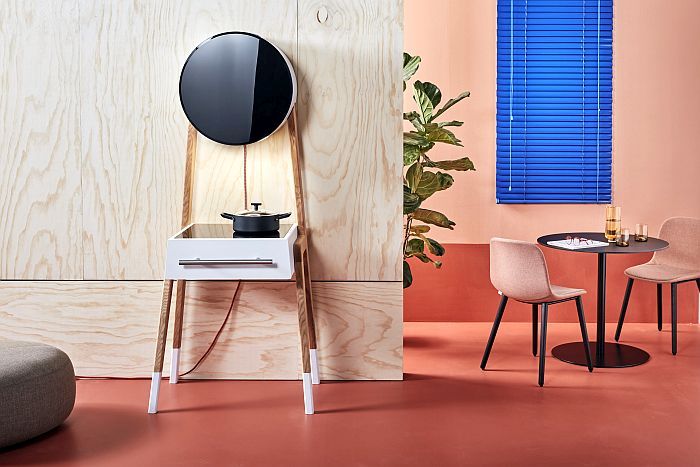 01.07.2020 Less than half a square meter for this mini-kitchen made up of induction top, with a specific area for charging mobile devices, and a hood, available even with high-performance ceramic filters, completed with a wide drawer. This is Cucinotta, by Fabita, designed by Adriano Design.
With its big eye and little paws, this fun-looking small furniture collects all the cooking functions by becoming your mate for everyday life. Essential and compact, Cucinotta, with white lacquered hood and drawer and ash wooden structure, can be easily placed in different situations and moved around the environments.
Deconstructing the kitchen
Spaces are increasingly smaller, social behaviours more nomadic, living environments more hybrid. But cooking still plays a vital role at home, even in the modern metropolitan workplaces or in holiday situations. So, with Fabita the kitchen deconstructs itself and turns the traditional furniture into a series of free, light, flexible elements.
The new brand fits into contemporary design, by seizing the great transformations that the people are attending. Urbanization phenomenon, rearrangements deriving from fast professional and personal changes, global movements and the spread of co-habitation and co-working models mark the current and future contexts people are led to face.
The cooking hobs and the extractor hoods designed by Adriano Design are very innovative. They mark an approaching shift from the design of cooking facilities. They are conceived, too, for different uses, both public and private. Products enable more functions simultaneously, offer smart technological solutions, and reduce bulkiness, thickness, weight to become space saver and migrate along the environments thanks to their freestanding feature.
And they are beautiful, thanks to the accurate design and material evaluations, astonishing for the original languages they adopt, immediate in the use mode. They make people smile, becoming their mates for everyday life throughout its different moments.
Fabita
Fabita is the evolution of an industrial firm with over 10 years of experience in the sector of induction and vitroceramic hobs and of extractor hoods.
Its consolidated know-how was acquired from the specialization of the Marche region, where it is placed, traditionally recognized for manufacturing kitchens and home appliances. So, Fabita radically renews its strategy through the collaboration with Adriano Design with the aim of exploring a new path with a brand-new image.
*For further information: www.fabita.it