Pietra di Cardoso Nero, the new finish by Laminam with In-Side Technology
---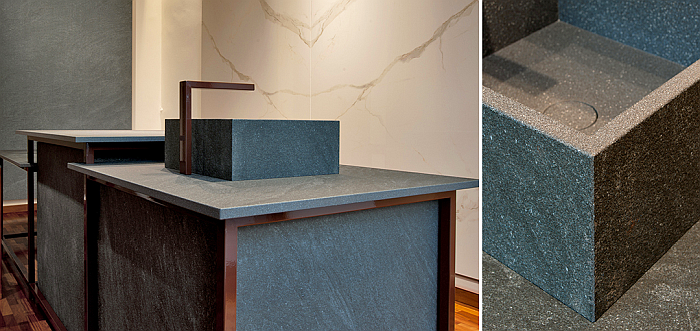 19.03.2020 As natural as stone, as rich in history as the towns of Italy. Pietra di Cardoso Nero, the new Laminam finish with In-Side technology, draws inspiration from the dark grey sandstone of the same name. This is extracted from the granite rocks taken from the mountains around the town of Cardoso in the province of Lucca, Tuscany.
Still visible today in old medieval towns, Cardoso stone has been in use since ancient times for its strength, ease of processing and elegant colours. Laminam draws on these qualities and highlights them in the new Pietra di Cardoso Nero slabs. This finish is produced using raw materials with a variable grain size, mixed together to obtain the aesthetic and tactile effects of the natural stone. But with much higher levels of technical performance and versatility.
Through the innovative In-Side technology, the new Laminam finish ensures continuity of texture even once the slabs have been adapted to specific furniture or architectural needs. This revolution makes it possible to seamlessly even out the edges and surface, as occurs with the natural stone. The In-Side series also overcomes the concept of front and rear as, when duly processed, the back of the slabs is enhanced and can be left visible. This is no small advantage, as can be seen in the kitchen displayed in the Laminam showroom in Milan, where both the inner and outer sides of the top-mount sink are aesthetically identical.
In-Side technology
In-Side technology is based on the mixture of natural raw materials with variable grain size which results in a textured blend, typical of natural stones. The end result is visible by observing the edge of the slab, which features total esthetic uniformity with the surface. This continuity between body and surface is also perfectly retained after the necessary processing to achieve the finished product (cutting, drilling and chamfering).
The superior esthetic performance of In-Side, which further accommodates the styling requirements of the world of architecture, interior design and furnishings, is combined with the outstanding technical performance of the ceramic slab: hygienic, resistant to scratches, stains, chemicals, heat, frost and UV rays.
*For further information: www.laminam.it