23 abril, 2020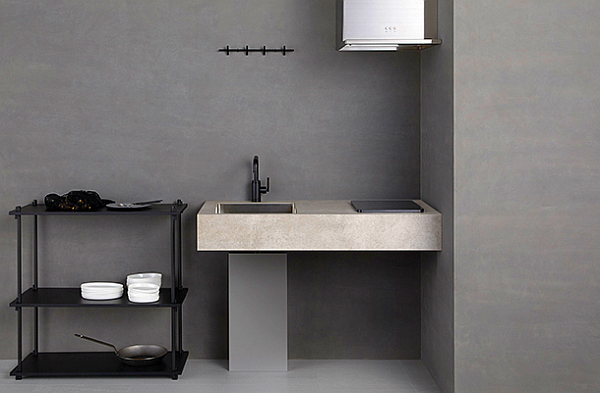 23.04.2020 Sanwacompany continues developing new projects dedicated to compact kitchen solutions, expression of the best Japanese technology. So, Mortana responds to the need to furnish mini-apartments in a practical way.
The exclusive compact kitchen is made of porcelain tile coloured in grey, reminiscent of mortar (a very resistant cement mixture) from which Sanwacompany drew inspiration for the kitchen name.
Minimal design
The kitchen, with minimal design, encloses in an extremely small space all the necessary functions. The elegant style merges with simple, natural and modern interiors. It is a particularly suitable solution for small living spaces as studios, but it can also be used as a washbasin in offices and shops, as well as a sub-kitchen or as a second smaller kitchen station in homes with more generous dimensions.

Stainless steel
The square sink with rounded corners is made of stainless steel. And the top and the side panels are made of tile, manufactured through machining processes and specific technologies that guarantee durability and quality over time. The material is shaped so that the joints are not visible. So, the resulting visual continuity enhances the kitchen's aesthetics appearance.
Design continuity
The quality of the stainless steel ensures maximum precision and prestigious finishes. The rounded corners accompany the styling of the worktop, getting across the notion of design continuity and exalting the concept of cleanness, of matter and form.
Compact kitchens
The firm therefore continues the research of contemporary and minimalist design, able to fit in with harmony within small spaces. It combines multiple functions into the same space thanks to the modularity, simplicity, functionality and dynamism of the new compact furniture.
The compact kitchens by Sanwacompany are conceived and manufactured to meet limited space requirements characterised by attention to design, quality of materials and finishes, and modern design.
Sanwacompany
The firm have developed various strategies to assist the customer in the pursuit of a better lifestyle. For the company, designing spaces is a form of self-expression. Rather than conforming to unified standards, Sanwacompany nurture its own creativity and sensitivity that will enrich people lives. By having the opportunity to make decisions for each ideal lifestyle based on diverse tastes for design.
Dimensions
Width: 900 / 1150 mm
Height: Body height 170 mm (Installation height 850 mm)
Depth: 550 mm
* For further information: info.sanwacompany.co.jp
---