7 marzo, 2019
Elemental silhouettes, clear-cut and functional geometric shapes for a kitchen with a versatile style that enhances everyday spaces with contemporary appeal: this best describes LiberaMente, one of Scavolini's best-selling collections, marked by minimal design and styling in pursuit of the utmost freedom of composition.
07.03.2019 In this offering, all the components of a kitchen composition have been inspired by maximum elemental design for a project based on simplicity and rigour. Scavolini's LiberaMente kitchen guarantees functional solutions that blend in seamlessly with the rest of the home marked by contemporary shapes and materials. With this collection, customers can create island or peninsula compositions, models with significant volumes or linear configurations with clean-cut silhouettes to accommodate the need for convenience and style.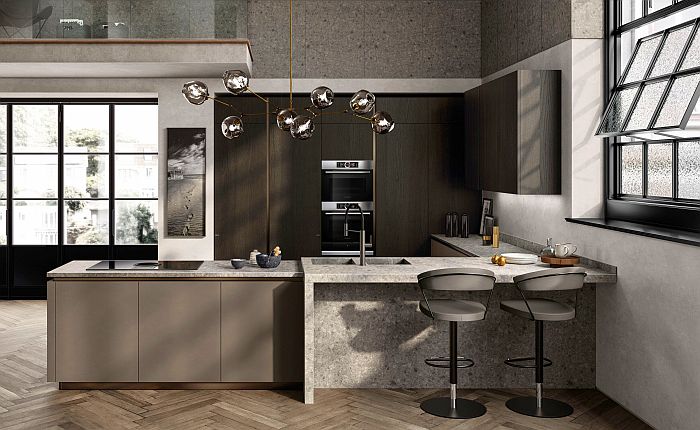 The leitmotiv of this collection is the absence of handles providing a comfortable grip and accentuating the elemental styling of this kitchen. Further essentials of the LiberaMente model are the open-fronted painted metal wall units – available in both White and Anthracite, which value the design and personality of the structure, also thanks to the combination with wall units with slanted door.
For fans of meticulous care for details, the silhouette of this model stands out owing to the aluminium recessed grip profiles that grant easy access to compartments and drawers, available in all the lacquered colours of the glossy and matt doors, or in White, Silver, Matt black, Bronze and Iron Grey.
Many possible combinations 
The focus of the collection lies in the balanced textured sensations that make interesting combinations possible thanks to an extensive variety of finishes and materials available:
decorative melamines in Larch, Walnut, Oak, Teak, Elm, Stained finishes and concrete effects;
glossy, matt and stained look lacquered, in several new shades, including Moon Blue and Mineral Green;
matt laminates in new textured finishes, including Calacatta, Statuario and Grey Stone;
Walnut and Oak veneers in 10 different grades to highlight the texture of the wood;
porcelain stoneware in 10 metropolitan flavoured hues;
polished or matt glass;
Biomalta with 4 new, elegant clay finishes offering a tactile experience;
leather and leatherette;
Fenix NTM with its metropolitan look and feel, in 9 different finishes.
The wide range of colour options allows customers to recreate their own personal style in both urban, eclectic settings thanks to the use of strong colours, and in more traditional settings, with more delicate nuances.
Living
LiberaMente is also a solution for Living rooms: the living room joined to the kitchen is now a staple in most current home furnishing trends. This collection is designed to reorganise space in a surprising way, by combining beguiling colour contrasts and different materials: marble effect laminates, available for doors and tops; warm Walnut and Oak decorative melamines, all with vertical grain; textured effect Biomalta with a metropolitan feel; attractive metal effect lacquers. All of which afford unmistakable style.
The settings can be further embellished by introducing the Metro Wall System which with its industrial feel incorporates and at the same time separates the kitchen from the living room with sophisticated and dynamic solutions. The distribution of space can also be organised using the attractive Fluida Wall System that can be used as a bookcase, larder or partition. Distinguishing features of the model include the wall-mounted cabinets, which are both functional and feature contemporary styling, the reduced height cabinets, the stylish open-fronted elements, and also shelves, and TV areas.
* For further information: www.scavolini.it
---