11 enero, 2018
A number of trends can be identified in the run-up to Imm Cologne 2018, and they have been exclusively photographed in Cologne homes and institutions for the award-winning campaign Furnishing Cologne (Köln möbliert).
11.01.2018 Natural Scandinavian chic or a solid marble ambiance, an interior design style reduced to perfection or bohemian chic that relishes in an exuberant fusion of colours – the new interior design season is varied and diverse like never before. The most important interior trend is therefore that there's no such thing as right or wrong anymore. Velvet can work alongside a concrete look; reduced design can be paired with a host of textiles and greenery; fashionable shades of Ultra Violet in the living room can go with a dark green home office in an ambiance that otherwise exudes Scandinavian lightness. Everything exists next to each other. Despite all this diversity, some trends have been exclusively photographed in Cologne homes and institutions for the award-winning campaign Furnishing Cologne (Köln möbliert).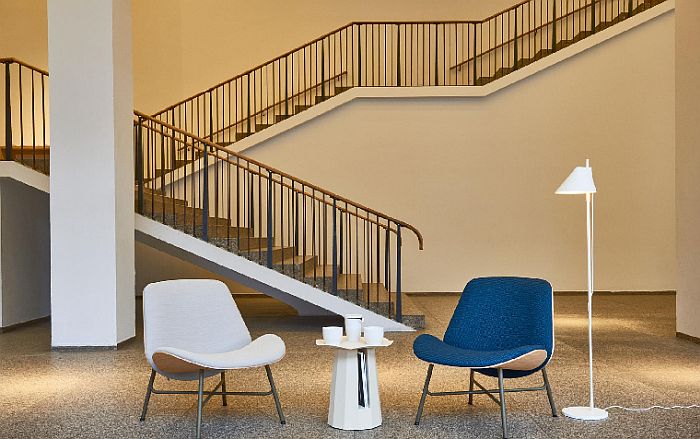 The perfect home
The world of interior design is constantly changing: if you haven't felt like constantly tidying up your house these past few years and have devoted your energies to decorating it instead, then you will probably have described your authentic laissez-faire style as "cosiness", to give it the trendy label. Now order is making a comeback, and interior designers are hiding the signs of daily life behind doors, in drawers or down in the cellar. For an increasing number of people, furnishing out of pure pleasure in sensuality is becoming a question of meaningfulness. And it's about more than minimalism or a particular style: it's about clarity, a sense of orderliness and simplicity.
That this new type of nearly spartan interior design has nothing in common with a rejection of pleasure, but instead involves a pleasure in, sparing, decoration and a new type of enjoyment, is also shown by the ideally selected motif of the Imm Cologne campaign Furnishing Cologne, which has been staged in a private apartment in an old Cologne building. Two chairs, a coffee table, a vase with brilliant berry branches. Only the best. More isn't needed; ultimately there is just the two of them. However, not just any chairs, tables and flowers will do. If one is going to set limits, then it should be precisely what one wants. The perfect home should be simple but not uncomfortable. Contemporary furniture with Scandinavian touch seems to be made for this. Not too loud, but instead discreet, the traditional reinterpreted freshly, for the most part small and practical furniture with charm in pleasant colours. And Scandic Style has long since stopped being a purely Scandinavian phenomenon. At Imm Cologne, traditional companies like Ligne Roset from France or brands like freistil also present collections and individual products that combine well with the Scandinavian lifestyle. This tendency has already been evident for several years in the design of living accessories and lighting. Many people are searching for spaces with little stimuli, in hopes of mastering a modern life flooded with information – and this does not just apply to the bedroom. And for many people, this space is their home. An aesthetically balanced, ordered environment that is not constantly calling to be tidied up, cleaned, for you to work on it, helps here.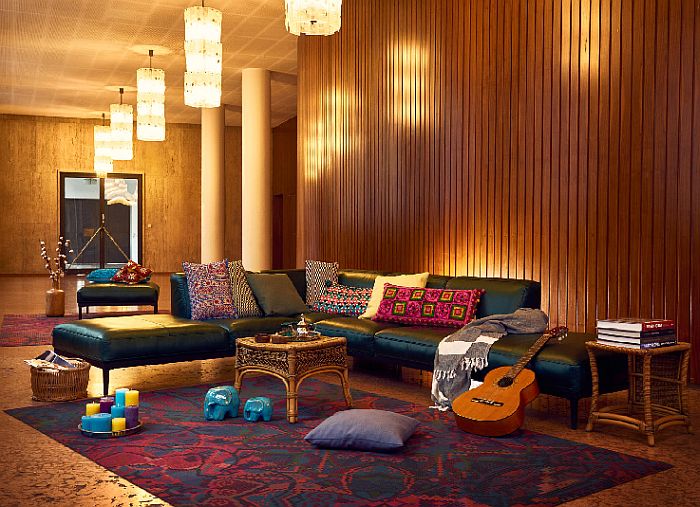 Boho is the new ethnic
They still exist, those trends that seem to prevail on the market regardless of the influence of marketing experts. A virus is currently spreading through living rooms and social networks that is expected to make waves in the world of interior design: boho style. What had already been heralded with vintage style has taken its final form (thus far) with boho: a revolt against the exhibitionist culture of living in showrooms that are sterile and polished to a high shine. Boho style allows items to be mixed which, at first glance, do not appear to quite fit together. Colourful ethnic patterns next to modern graphic design, coarse woollens and finest leather, black-and-white photos of Hollywood stars on the wall next to black-and-white cows, a wicker table from the flea market accompanied by an Eames chair – nothing seems better suited to loosening up the sterile or outdated architecture from Bauhaus to the 1950s. Free spirits and those who take life as it comes like the boho look because it has few rules. The ethnic borrowings come from all over the world; cushions made from old kilim rugs are combined with fabrics from India and blankets from Peru. Accessories and textiles are the uncomplicated elements that boho works with. Old sofas and Récamier couches are jazzed up using throws, stools draped in beautiful fabrics, and if needed, the coffee table can be replaced by a large metal tray placed on a pouffe. Add some occasional furniture made of rattan, wickerwork, knotted or woven items, homemade objects and lots of green plants – et voilà, the cool look is finished. Anyone who wants to shake things up at home will be well served with boho.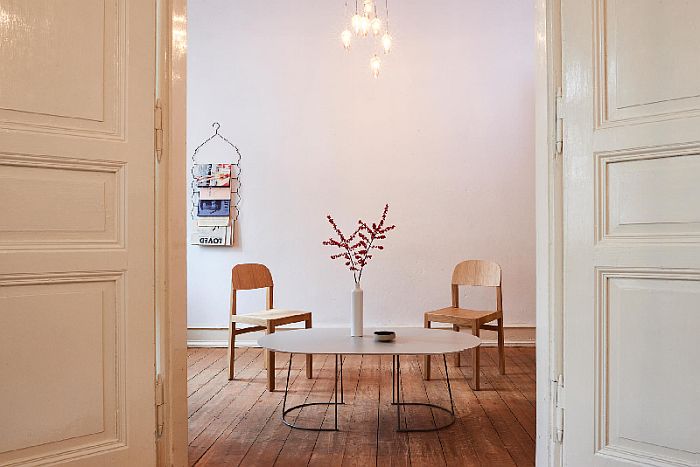 The new classics
Connoisseurship is proven when one uses design classics as furniture – or such items as could one day become them. The role model is provided by modern classics, mostly in clear Scandinavian forms. Solid wood, accompanied by appropriate natural materials, such as stone, wool or wool-like textiles, wicker, leather and metal, dominate as materials. The fan community has thereby long since stopped being defined only by money, but instead now by connoisseurship. In a time of mix & match, nobody needs to purchase complete sets anymore – purchased and collected is what one finds and/or can afford at the moment. At the same time, something special requires a special framework to really do it justice. No other furnishing style enters into such a close relationship with the architecture. It still remains to be seen whether the Nihan armchair and the Golden Nugget side table by trendy Dutch brand Pode will take up a permanent place in the Vitra Design Museum, but these modern classics made it through the first dress rehearsal in the Museum of Applied Arts Cologne (MAKK) in style.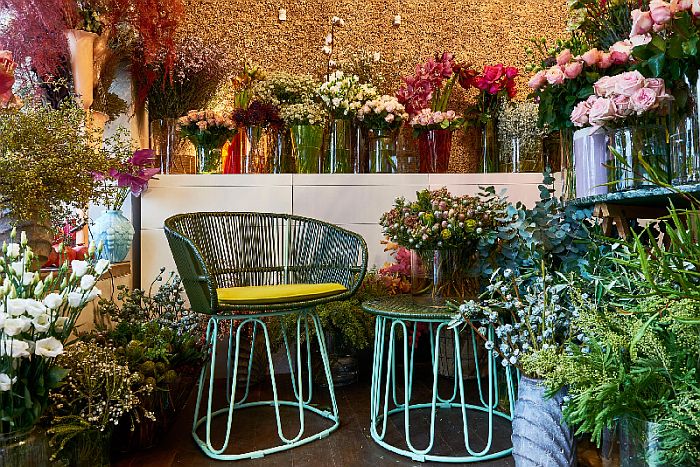 Living in green: blending sustainability and style with plants and shades of green
Ultra Violet and Heart Wood have been named the colours of the season by colour experts. But greens are still very much in vogue, and this is more than just a continuation of last year – green now appears in nature: shades of green work perfectly with the green living trend, which is behind the expanded range of fair trade and sustainable furniture for healthy home living and sleeping on show at Imm Cologne. Green living with its natural materials and plant collages works beautifully alongside a Scandinavian-inspired, fresh and natural interior style, but it can be teamed just as well with an irreverent, offbeat boho look. All hues of green remain a strong theme, with leaf colours appearing in colourful combinations in floorings, curtains, blinds and upholstery.
Green reflects greater environmental awareness and works perfectly with plants and their innate decorative character. Today fauna is not only chosen because of a particular feature – hanging, succulent, fragrant, a specimen plant or a wall covering, a fresh green colour or a more muted lichen – but increasingly because of its influence on the indoor climate. This is why plants and flowers take on the leading roles in our photograph, appearing alongside the new Circo dining chair and side table by Sebastian Herkner (presented by cult label ames) in the dream-worthy Cologne flower studio Où j'ai grandi. Just like the featured products, these plants have stories to tell. And this is something interior designers excel at – in magical green images that almost cry out to be recreated elsewhere.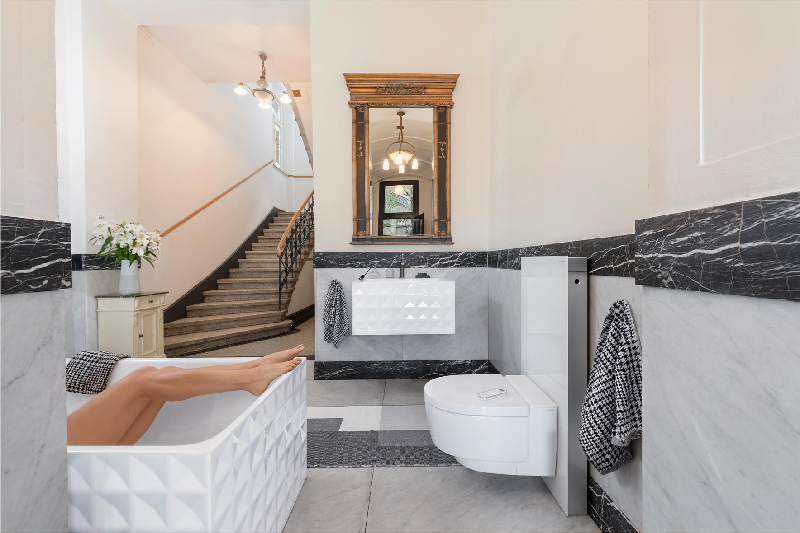 Marble combines ambience, sustainability and a clean look for the bathroom
Bathrooms are built to last a small eternity. At least that's how it used to be when private bathrooms in ceramic and marble were a prestige object that made up part of the architecturally entrenched self-image of the middle classes. And it still has the same solid effect today when, as is the case here, the materials used are a byword for durability: steel enamel, ceramic, natural stone, marble. And yet the bathroom has never been as fashion-conscious as it is today. In an age when the word "sustainability" is on everyone's lips, it is perhaps no coincidence that marble is back in vogue as a material for floors and wall coverings, as well as for furniture pieces such as tables, coffee tables, benches, occasional furniture and home accessories. Designers value the durable material not only for its elegant aesthetics, but also because of its long-lasting, high-quality properties. In contrast, when broken down to lifestyle ranges such as candleholders and pillowcases with marble effect, the material becomes purely a gesture. But taken seriously and combined with other premium materials, marble can really turn the bathroom into an ornament that endures. Not so the bathroom shown here, which was assembled for the Furnishing Cologne photo series and dismantled immediately after the shoot.
The brief for Imm Cologne's annual trend sketch was an interior design set featuring marble. The location was one of Cologne's most impressive stairwells dating back to the end of the nineteenth century, a number of which have fortunately survived in various corners of the cathedral city. In January, ideas for interior trends with classics, with perfect products for perfect homes and the latest carpets, as well as inspiration for translating a sense of joie de vivre into an interior ambiance and new concepts for stylish home spas will not only be on display in the installations in Cologne homes, but will also be presented in a host of variations at the international interiors show Imm Cologne.
*For further information: www.imm-cologne.com
---