Guidoni Group, at the Xiamen Stone Fair 2019 in China
---
Guidoni Group participates in the Xiamen Stone Fair 2019, the main fair of the Asian stone and derivatives industry, which takes place on March 6-9 in Xiamen, China.
07.03.2019 For the first time, Guidoni Group presents the novelties of its portfolio in its own booth, showing the versatility of the surfaces in different applications, besides reinforcing the presence and importance of the Brazilian group in the region.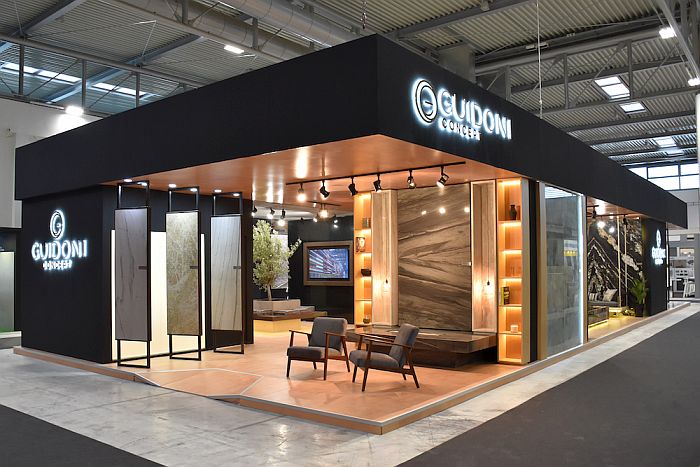 Guidoni's participation in the event is an important strategic decision since exports to the Asian market (mainly Singapore, Taiwan, Oceania and Middle East) account for about 75% of the company's natural stone turnover, particularly China, which imported US$ 15 million in 2018. Guidoni's second largest trading partner in terms of amount and volume is one of the largest investors in coatings in the world, especially in raw blocks for large infrastructure projects and entrepreneurship.
Asian consumer market
The Asian consumer market is essential for Guidoni Group in terms of natural blocks since the region is the largest global importer of the material. Our recognition in this market is due to the fact that we are one of the only stone industries in the world with productive capacity to guarantee the consistency of the natural standard offered, that is, to produce a high quantity of material while maintaining the same surface aesthetics, an indispensable issue in large projects, says Rafael Guidoni, Group CEO.
One of the few Brazilian factories in the segment able to masterfully handle the expansion of civil construction in Asia, Guidoni registered more than US$ 33 million in raw material exports in 2018, with the company accounting for 20% of all Brazilian deals with the external market in the segment.
From the portfolio focused on this market, the highlight are the basic granites, quartzites and natural marbles with a high consistency standard, solid colors of high quality and the guarantee of strength and durability intrinsic to the company, guaranteed by the expertise in extraction, processing and commercialization for over 25 years. The stones come from more than 40 deposits of the company spread throughout different states of Brazil.
*For further information: www.guidoni.com.br / www.topztone.com