Indaux reinforces its presence in Central America
---
Indaux has been present in Central America for more than 25 years, when it was received in the region as a European manufacturer of quality hardware, with the advantage of sharing the language. During this time, the firm has developed long-lasting relationships with local partners in the main countries.
07.04.2019 Since Pablo Arratibel took over the responsibility of Indaux Central America three years ago, it has received significant impetus, providing support with his continuous journeys for the distribution structure, signing new agreements and, above all, taking note of the market's demands to adapt the products to regional needs at the factory.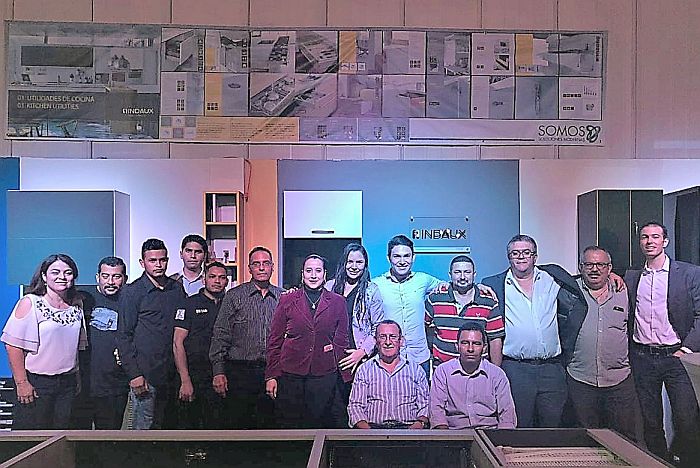 Based in Costa Rica, Luis Barquero and his Modern Solutions (Somos) team have made a commitment to communicating the advantages of quality hardware, with European specifications, as regards functionality, durability, guarantee and customer satisfaction. To this end, he has worked hand in hand with local furniture manufacturers, schools and standards bodies. With his efforts he has contributed his grain of sand to the evolution of the market. Somos collaborated with Indaux in the introduction of furniture solutions in other countries of the region, such as for example with Olins and Constructora Global for El Salvador and San Miguel for Guatemala.
In Panama, Indaux's distributor Joi Wood, one of the country's leading furniture manufacturers, has recently moved to new installations, which are among the country's largest and most modern in its sector. With its commitment to quality hardware, Joi Wood has managed to turn Indaux into a reference in Panama.
Indaux has been present in the Mexican market for more than 25 years, through Molducan/Guillas, which is making a strong commitment to bringing in products with higher added value to the Mexican furniture industry, with a very positive evolution and results.
* For further information: www.indaux.com